Oklahoma beheading: Alton Nolen charged with murder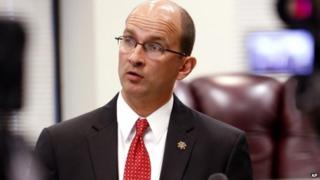 An Oklahoma man accused of beheading a woman after being fired has been charged with first-degree murder.
Alton Nolen, 30, could face the death penalty for what prosecutors are calling an act of revenge for a complaint that got him fired.
Mr Nolen allegedly returned to a packing plant in Moore, Oklahoma, with a knife after being fired, killing one and injuring another.
He was shot by a reserve police officer and was brought to hospital.
Police in Moore say Mr Nolen had "openly admitted" to both the beheading of Colleen Hufford, 54, and the attempt to kill Traci Johnson, 43, according to the Oklahoman newspaper.
He may be released from hospital and transported to a local jail within the next day, police told the newspaper.
Prosecutor Greg Mashburn said he would "vigorously prosecute" the murder charge but that it was more appropriate to leave any questions about a possible terrorism link to federal investigators.
Mr Mashburn added that Mr Nolen had "some sort of infatuation with beheadings. It seemed to be related to his interest in killing someone that way".
"Other than that, it seemed to be related to his being suspended earlier in the day."
According to police, Mr Nolen was fired after Traci Johnson complained she had an altercation with him "about him not liking white people".
Mr Nolen left for home, retrieved a knife, and "returned to get revenge," Mr Mashburn said.
The accused's mother and sister posted a video message over the weekend saying they were shocked by the allegations against him.
"My son was raised up in a loving home. My son was raised up believing in God," his mother, Joyce Nolen, said in the video.
"Our hearts bleed right now because of what they're saying Alton has done."
Mr Nolen was released from prison in March 2013 after serving two years of a six-year sentence for multiple charges, including assaulting a police officer and possession of cocaine with intent to distribute, according to prison records.