Ebola crisis: Could the virus spread in the US?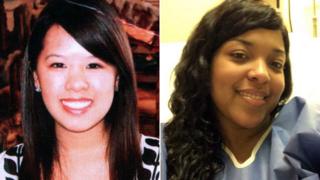 Two Dallas nurses have recovered after being infected while treating the first person to be diagnosed with the deadly Ebola virus in the US. How did the virus get to the US and could it further spread?
The outbreak gripping West Africa is the world's worst, infecting nearly 10,000 people and killing nearly 5,000.
Liberian national Thomas Eric Duncan travelled to the US from one of the worst affected countries, Liberia, and died a little after two weeks later.
Seven Americans have now been treated for the virus on US soil. But what are the ongoing risks?
Who were the first US patients?
Duncan tested positive in Dallas, Texas, on 30 September, 10 days after he arrived in the US to visit his former girlfriend and their 19-year-old son.
He worked as a driver for a courier service and lived in the Paynesville 72nd Community suburb of Monrovia.
Despite aggressive treatment in hospital, including an experimental drug, he succumbed to the virus on 8 October.
Nurses Nina Pham, 26, and Amber Vinson, 29, became infected while caring for Duncan. Both later recovered and were released from hospital.
Top US health official Tom Frieden originally said there had been a breach of protocol by health workers that led to the nurses becoming infected.
However, nurses working at the hospital have said they were given little guidance and inadequate protective clothing to deal with the infection.
Were these the first people in the US to have Ebola?
No, a small number of American aid workers who contracted the virus while abroad have recovered after flying back to the US for treatment. But Duncan and the health workers were the first diagnosed within the US.
Three of the aid workers were colleagues at the same hospital in Liberia. Kent Brantly and Nancy Writebol were flown back to Atlanta for treatment, while Rick Sacra, a family doctor from Massachusetts, recovered in Nebraska.
Another American to contract Ebola, NBC cameraman Ashoka Mukpo, was transported from Liberia, treated at a Nebraska facility and later released.
Subsequently, Craig Spencer - a doctor treating Ebola patients in Guinea - also tested positive for the virus upon his return to New York City. He is currently receiving treatment in an isolation unit.
Do we know how Duncan was infected?
It is believed he came into contact with Marthalene Williams, a young Ebola-infected woman in Liberia on 15 September, according to a report by the New York Times.
Duncan is said to have helped take her to hospital, but she was later turned away due to lack of space in the Ebola treatment ward. He helped to carry her home, where she died hours later.
Williams's brother, Sonny Boy, also later displayed symptoms of Ebola and died en route to a local hospital.
How did an infected person come into the US undetected?
Duncan was screened for Ebola symptoms at Roberts International Airport, located near the Liberian capital of Monrovia. He displayed no signs of the virus and was allowed to board an SN Brussels Airlines flight to Brussels, Belgium, then on to Washington Dulles and finally Dallas-Fort Worth.
Binyah Kesselly, chairman of the board of the Liberia Airport Authority, said it would be "nearly impossible" to identify a person infected with the Ebola virus if the person were not showing symptoms.
Isolating affected countries is a move opposed by the US Centers for Disease Control and Prevention (CDC) because, they say, it could make the epidemic worse by disrupting the flow of aid.
In late October, Australia announced it will suspend entry visas for people from Ebola-affected countries in West Africa.
The move was swiftly criticised by Amnesty International as counterproductive and discriminatory.
The same day, US President Barack Obama told reporters it was imperative to allow health workers to travel to and from West African nations to further their efforts to contain the outbreak.
How dangerous is Ebola anyway?
Symptoms include high fever, bleeding and central nervous system damage
Spread by body fluids, such as blood and saliva
Fatality rate can reach 90% - but current outbreak has mortality rate of about 70%
Incubation period is two to 21 days
There is no proven vaccine or cure
Supportive care such as rehydrating patients who have diarrhoea and vomiting can help recovery
Fruit bats, a delicacy for some West Africans, are considered to be virus's natural host
Ebola basics: What you need to know
Is the US ready?
The CDC recently announced new federal guidelines that US medics returning from treating Ebola patients in West Africa will be actively monitored but not placed in quarantine.
The move came after a nurse was put in isolation in a tent in New Jersey, a decision later condemned by UN Secretary-General Ban Ki-moon.
The guidelines have also been criticised by New Jersey Governor Chris Christie, who oversees one of three US states with a 21-day quarantine for all health workers who have had contact with Ebola patients.
Meanwhile, the US Army Chief of Staff has imposed a 21-day monitoring period for all soldiers returning from the region.
The CDC has also introduced a raft of new measures since Duncan's diagnosis, including:
a "site manager" will supervise how workers at the Dallas hospital put on and take off their protective clothing
two nurses from Emory University Hospital in Atlanta will offer "enhanced training" in Dallas
an immediate response team will travel to the site of any future Ebola diagnoses to hit the ground "within hours"
new guidelines for testing at hospitals throughout the US, with special emphasis on asking questions about travel history
Mr Obama has praised healthcare workers' ongoing response to the medical crisis, saying they are doing "God's work" and their efforts must be supported.
Ebola patients treated outside West Africa*
*In all but three cases the patient was infected with Ebola while in West Africa. Infection outside Africa has been restricted to health workers in Madrid and in Dallas. DR Congo has also reported a separate outbreak of an unrelated strain of Ebola.