Three US student footballers die in a week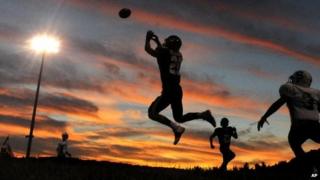 A student in New York state who died on Wednesday became the third US high school footballer to die playing the game in the last week.
Tom Cutinella, 16, died after colliding with an opponent, Shoreham-Wading River superintendent Steven Cohen said.
Two 17-year-old players collapsed and died after a warm-up and a game in North Carolina and Alabama on Friday.
In the past decade, 12 high school athletes died on average every year playing football.
A recent study by the National Center for Catastrophic Sport Injury Research at the University of North Carolina found that over the past decade, three died directly due to "participation in the fundamental skills of football" - for example through spine fracture or head injury.
Another nine on average died from indirect causes due to the exertion, such as from heat stroke or an undiagnosed medical condition, or from complications due to a non-fatal injury.
'Typical contact'
Even at secondary school level, the teenage players can collide at high speed dozens of times during games and practice.
Veterans of the university and professional game can suffer permanent health effects, from chronic joint and back pain to memory loss and early-onset dementia.
On Thursday, Mr Cohen told reporters that Cutinella, a guard and linebacker, suffered a head injury from "typical contact" during the game.
He said the school's director of sport would lead an investigation into the incident and would review the team's protective equipment.
In Alabama on Friday, Charles Henderson High School cornerback Demario Harris collapsed early in a game after tackling an opponent.
"There didn't seem to be anything dramatic with it," Harris coach Brad McCoy told AL.com. "He was walking back to the huddle and collapsed."
Mr McCoy said doctors told him Harris had ruptured a pre-existing brain aneurysm.
But in a Facebook post first reported by the Dothan Eagle newspaper, Harris' father had a different explanation.
"Contrary to various media reports, my son had a brain haemorrhage, not an aneurysm, that was caused by a hit he took during Friday's game. He may have had a pre-existing condition, but there is no way to tell now," Demario Harris Sr said.
Also on Friday, Isaiah Langston, a linebacker for Rolesville High School in North Carolina, collapsed during a pre-game warm-up. He died on Monday.
His brother, Aijalon Langston, told a local broadcaster there was not yet an official cause of death but he understood it involved a blood clot in his brain.