Death penalty sought in Oklahoma beheading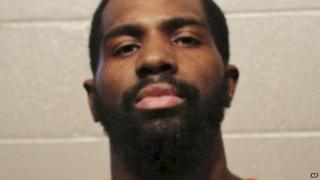 Prosecutors in the US state of Oklahoma will seek the death penalty against a man accused of beheading a co-worker.
Cleveland County District Attorney Greg Mashburn filed the notice in the case of Alton Nolen, 30, who is charged with first-degree murder.
Prosecutors say Mr Nolen went to a Moore, Oklahoma, food processing plant on 25 September with a knife, then killed a woman and injured another.
He was shot by a reserve police officer and was brought to hospital.
Mr Mashburn sought the death penalty due to the "especially heinous, atrocious or cruel" nature of the crime, according to paperwork filed in the case.
'Interest in killing'
Police in Moore earlier said Mr Nolen had "openly admitted" to killing Colleen Hufford, 54, and attempting to kill Traci Johnson, 43, according to the Oklahoman newspaper.
The suspect's family told US media Mr Nolen had recently converted to Islam, and congregants at a mosque in Oklahoma City said he had been a frequent visitor there.
According to police, Mr Nolen was suspended from his job at the food plant after Johnson complained she had an altercation with him "about him not liking white people".
Mr Nolen went home, retrieved a knife, and "returned to get revenge", Mr Mashburn said.
Mr Nolen was released from prison in March 2013 after serving two years of a six-year sentence for multiple charges, including assaulting a police officer and possession of cocaine with intent to distribute, according to prison records.
He was discharged from hospital on Wednesday and is currently being held without bond. An attorney has yet to be appointed to him.