US mid-term elections: Six Senate races to watch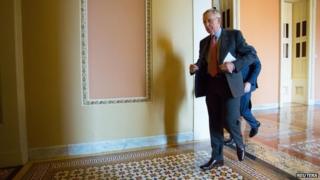 Every two years, one-third of the US Senate stands for re-election. This year, the Republican Party hopes to gain a majority in the body by wresting seats from vulnerable Democrats and taking spots left open by retirements.
With the lower House of Representatives firmly in Republican hands, winning control of the Senate would enable the party to effectively shut down Democratic President Barack Obama's agenda in the last two years of his term and give it significant leverage in the way he shapes his government.
With the economy improving and Mr Obama's controversial healthcare overhaul receding as an issue, no single other issue has emerged to define the race.
The Republicans have sought to link Democratic candidates to the unpopular president. Flush with cash, both parties have relied on negative advertising and fierce, often personal attacks on their opponents.
The Republican Party needs to gain six seats to win control of the chamber. Here are six of the most competitive and dynamic races in the country.
---
North Carolina - Kay Hagan v Thom Tillis
Democratic Senator Kay Hagan faces Republican Thom Tillis, the speaker of the state House of Representatives, in the most expensive race of the election cycle.
Ms Hagan was elected in 2008, aided in a conservative state by voters lured to the polls to cast a ballot for Barack Obama. A moderate Democrat who has largely supported the president's agenda, Ms Hagan is now trying to distance herself from him by proposing changes to those policies or emphasising the differences between the two of them.
Mr Tillis has pitched himself as a moderate on some issues, for instance supporting prescription-free access to birth control. But Ms Hagan has attacked his record leading a state legislature that passed very conservative laws including abortion restrictions, limits on ballot access and voter registration, and cuts to the state education budget.
Why US mid-term elections matter
---
Arkansas - Mark Pryor v Tom Cotton
Senator Mark Pryor, a Democrat, is running for re-election against Republican Tom Cotton, a freshman congressman.
Mr Pryor was elected to the Senate in 2002 after stints as Arkansas' attorney general and in the state legislature. He is a centrist Democrat who sometimes crosses the aisle to join Republicans, for instance by opposing a bill to raise the federal minimum wage. He voted for Mr Obama's signature 2010 healthcare overhaul, which is roundly despised by the Republicans.
Mr Cotton, a Harvard-educated lawyer who served as an Army officer in Afghanistan and Iraq, is among the most conservative members of the House.
In the past decade the Republican Party has taken control of the Arkansas state legislature and won five out of the six federal offices, with Mr Pryor the last Democrat representing the state in Washington. That leaves Mr Pryor among the most vulnerable Democratic incumbents of this election cycle.
---
Colorado - Mark Udall v Cory Gardner
Republican Congressman Cory Gardener hopes to unseat Democratic Senator Mark Udall in a race that highlights Colorado's geographic and cultural divisions.
Mr Gardner represents the eastern, rural part of Colorado in the US House, while Mr Udall is a first-term senator from the liberal enclave of Boulder. According to the political forecasting website 538.com, the ideological divide between the two candidates is the largest of any competitive Senate race.
Mr Udall, the son of long-time liberal Democratic Congressman Mo Udall, ran Outward Bound, a company that sponsors outdoor activities for children and teens and spent ten years in the House of Representatives before his election to the Senate in 2008. He has focused his race on the environment and his experience working with both senators of both parties, and has sought to portray Mr Gardner as an extremist, particularly on abortion.
Mr Gardner was first elected to Congress in 2010 after representing the area in the state legislature. He hails from a prominent family of tractor dealers.
The Colorado lawmaker has attempted to moderate his conservative platform of spending cuts and increased US energy production with a pro-conservation stance to appeal to outdoor-minded Coloradans.
As goes Colorado, so goes the nation?
---
Georgia - Michelle Nunn v David Perdue
Non-profit executive Michelle Nunn and businessman David Perdue are running for a senate seat left empty by the retirement of Republican Saxby Chambliss.
Ms Nunn, who until recently was the chief executive of Points of Light, a charity focused on volunteering, is the daughter of long-time US Senator Sam Nunn. She is trying to become the first Democratic US senator elected in Georgia since 2000 and has run on a platform of targeted spending cuts, immigration reform and a lifetime ban on members of Congress becoming lobbyists.
Mr Perdue, a business executive, has campaigned on a complete overhaul of America's income tax system and disbanding the US education department. Like most Republicans, he has come out strongly in opposition to Mr Obama's healthcare overhaul.
The Georgia Senate race is rare in that it features two candidates who have never held public office and thus have no voting records.
The race has turned extremely negative. Mr Perdue has run adverts accusing Ms Nunn's charity of funding terrorists. Ms Nunn's line of attack features a quote from Mr Perdue in which he said in a court case that had had spent most of his business career "outsourcing" US jobs.
---
Iowa - Joni Ernst v Bruce Braley
Republican Iowa State Senator Joni Ernst and Democratic Congressman Bruce Braley are vying for the US Senate seat left vacant by the retirement of long-time Democratic Senator Tom Harkin.
Ms Ernst is a military veteran and has served in the Iowa senate since 2011. She opposes a national federal minimum wage, supported an anti-abortion law that would define foetuses as legal persons, and calls for the repeal of Mr Obama's healthcare overhaul.
Mr Braley, a lawyer who has represented the north-eastern part of the state in Congress since 2007, was initially projected to win the seat.
But Ms Ernst has leapt on a video that surfaced in which Mr Braley appeared to denigrate Iowa's sitting senator Chuck Grassley as a mere farmer, rather than a lawyer. Also, Ms Ernst has made the most of a dispute Mr Braley had with a neighbour at his vacation property over chickens she allowed to roam free across his land.
---
Kansas - Greg Orman v Pat Roberts
Kansas has not elected a Democrat to the Senate since 1932, and will not again in 2014.
But it might elect an independent candidate, businessman Greg Orman, who is looking strong in a battle against Republican incumbent Senator Pat Roberts.
The Democratic Party removed its candidate from the ballot, deeming Mr Orman the best chance at unseating Mr Roberts.
Mr Roberts was first elected to the Senate in 1996, and has not faced a challenge this tough since.
He is among the more conservative members of the Senate, according to an analysis by GovTrack, which is not necessarily a liability in a state that pioneered anti-abortion politics, has one of the most conservative governors in the country, and has not voted for a Democrat since 1964.
But his political opponents have portrayed him as out of touch with his constituents, playing up a report that he did not own a home in Kansas and had scant ties to the state.
Mr Orman has not said which party he would caucus with if elected, suggesting he will side with whichever has the majority.
As polls suggest he is leading Mr Roberts, Republicans have sought to portray him as a Democrat in all but name and highlighted his business connections with Rajat Gupta, who was of convicted securities fraud.
What difference would a Republican Senate make?