Ebola outbreak: US patient Thomas Duncan on dialysis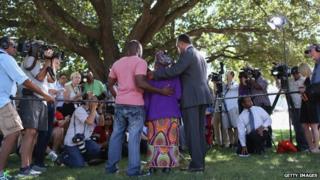 The first patient diagnosed in the US with Ebola is on a ventilator and kidney dialysis, as officials monitor those with whom he came in contact.
Thomas Eric Duncan's liver function has improved but could fluctuate in the coming days, said the Dallas hospital where he is in isolation.
The current outbreak of Ebola has killed about 3,400 across West Africa.
But no new diagnoses have been confirmed in the US since Mr Duncan's on 30 September.
Experimental drug
President Barack Obama has said the US was preparing a screening regimen for air passengers from countries affected by the outbreak.
Ebola spreads through contact with bodily fluids and the only way to stop an outbreak is to isolate those who are infected. Ebola patients only become infectious after they show symptoms of the disease, such as fever.
There have been nearly 7,500 confirmed infections worldwide, a figure health officials say is probably an undercount. Liberia, Sierra Leone and Guinea have seen the vast majority of infections.
On Tuesday, US Centers for Disease Control and Prevention Director Dr Tom Frieden said Mr Duncan was being treated with the experimental drug brincidofovir, originally developed to fight several other viruses.
He remains in a critical condition in Texas Health Presbyterian Hospital.
His son, Karsiah Duncan, a Texas resident and student at Angelo State University, asked Americans to pray for his mother, who is currently in isolation in Dallas, and for his father to survive.
The younger Mr Duncan also thanked Mr Obama for sending troops to help combat the transmission of the disease in West Africa.
Karsiah Duncan, 19, said he had not seen his father since he was three years old, but George Mason, a pastor at the church the elder Mr Duncan's girlfriend attends, told the Fort Worth Star-Telegram newspaper he had come to the US to reunite with Karsiah's mother.
Texas health officials say they continue to monitor 10 people confirmed to have had contact with Mr Duncan since his arrival in the US and 38 others who may have. None have shown any symptoms of Ebola.
Mr Duncan's family appeared with civil rights leader the Reverend Jesse Jackson on Tuesday. They were not able to see Mr Duncan due to his isolation in hospital.
Mr Jackson called for officials to "quarantine the sickness but not quarantine [Liberia]," saying Mr Duncan was unfairly "criminalised".
An American journalist who contracted Ebola in Liberia is also receiving brincidofovir. Doctors sought federal permission to use the drug for Ashoka Mukpo after he was flown back to the US state of Nebraska for treatment.
Spanish nurse
Dr Frieden also said there were no doses "left in the world" of another experimental drug used on previous Ebola patients, ZMapp.
Meanwhile, a Spanish nurse has became the first person known to have contracted the deadly virus outside West Africa.
The nurse had treated two Spanish missionaries who died of the disease after being repatriated.
Doctors are monitoring 22 people including relatives and staff who had contact with the nurse at Alcorcon hospital, as well as 30 people working at Carlos III hospital.
The European Commission has asked Spain to explain how the nurse could have become infected. A hospital investigation is under way.
In other developments:
Dr Frieden said public health efforts had led to the sharp decline in cases in Lofa County in Liberia.
British health authorities have said they have no plans to introduce Ebola screening for travellers arriving in the UK.
A container of Ebola aid goods that have been stranded at port is at the centre of a political row in Sierra Leone.
A Norwegian medic who tested positive for Ebola while working with Medecins Sans Frontieres in Sierra Leone has been flown back to Oslo.
Shares in airlines including Easyjet and British Airways owner IAG have fallen sharply following the news of the Ebola case in Madrid.