FBI in plea to identify masked IS man in video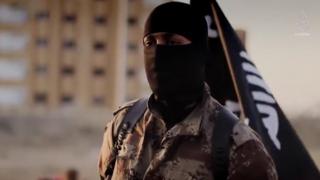 The FBI is asking the US public to help identify a masked man who appears in an Islamic State (IS) video.
Dressed in desert camouflage and wearing a shoulder holster, officials believe he betrays a North American accent as he speaks English and Arabic.
FBI director James Comey says about a dozen Americans are fighting with IS.
"In releasing a segment from the video, the FBI hopes someone might recognise the man through his voice and appearance," the agency said.
It has put a clip of the video on its website, with details of how the public can help.
In parts of the video not shown in that segment, the militant stands over men he says are Syrian soldiers who have been taken prisoner at a base in Raqqa province, and are being made to dig their own graves.
He threatens them with execution before the men are shown being killed.
IS militants have seized huge swathes of Iraq and Syria and are now being bombarded by US-led air strikes.
Intelligence officials in many Western countries have expressed fears that foreign recruits to the cause of IS could return from the fighting to launch attacks at home.
"We need the public's assistance in identifying US persons going to fight overseas with terrorist groups or who are returning home from fighting overseas," said Michael Steinbach, assistant director of the FBI's Counterterrorism Division.
On Saturday, a 19-year-old man in Chicago was arrested for allegedly attempting to travel overseas to join IS.