Pilot dies fighting California wildfire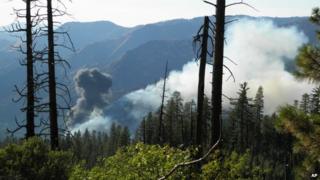 The pilot of an air tanker battling a wildfire in Yosemite National Park in California has died after the plane crashed into a canyon wall on Tuesday.
The unnamed man was said to be attempting to lay down fire retardant to limit the spread of the blaze.
Rescue crews later found the wreckage and confirmed the pilot's death.
The National Transportation Safety Board will head an investigation into the cause of the crash, which has yet to be determined.
"I heard a large explosion, I looked up on the steep canyon wall and saw aircraft debris was actually raining down the side of the mountain after the impact," California Highway Patrol Sergeant Chris Michael told the Associated Press news agency.
"It appeared from the direction he was going, he was trying to make a drop down the side of the canyon when he hit the canyon wall."
The missing pilot is said to be an employee of contractor DynCorp., which provides pilots for all California Department of Forestry and Fire Protection's planes.
In 2001, two agency air tankers collided while fighting a fire in Mendocino County, killing two pilots. In 2006, a pilot and a fire battalion chief were killed while flying over a fire in Tulare County.
"[Tuesday's] crash underscores just how inherently dangerous wildland fire fighting is," agency director Chief Ken Pimlott wrote in a statement.