Ontario police resume 1985 search for missing schoolgirl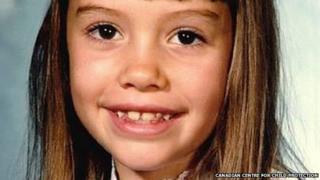 Police in Ontario, Canada, have resumed the search for a schoolgirl who went missing nearly 30 years ago.
Several dozen officers have used cadaver dogs and ground penetrating radar to scour a wooded site for the presumed remains of Nicole Morin.
Nicole went missing on 30 July 1985 aged eight on her way to meet a friend.
Authorities are acting on a tip received after the release of a video re-enacting Nicole's movements on the day of her disappearance.
The same rural property north of Toronto was also searched in the days after Nicole went missing. But police say modern advances in search equipment - including ground penetrating radar and GPS - may turn up more information.
"Technology has changed," Toronto police inspector Gerry Cashman told Canadian media.
"We thought we would close the loops and do everything we can do to make sure we have done due diligence for Nicole if she is here or was here."
The initial hunt for Nicole in 1985 included 100 officers searching by plane, boat and on foot.
The girl's parents, Art and Jeannette Morin, offered reward money and ran ads in newspapers asking for tips in their's daughter's disappearance.
Mr Morin's brother-in-law was questioned after he was convicted in 1961 of killing Mr Morin's sister, Gertrude. But he was later ruled out as a suspect.
The latest search is expected to conclude on Thursday, with authorities claiming there are no plans to search additional sites.