St Louis protests resume over police shooting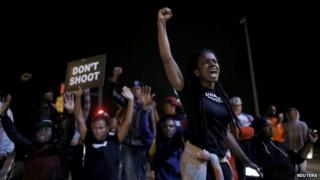 Police in riot gear used pepper spray on angry protesters on the streets of St Louis in a second night of unrest after the shooting of a black teenager.
Police say the white officer who killed Vonderrit D Myers, 18, was returning fire, but the victim's parents say he was unarmed and racially profiled.
Some protesters burned American flags, while chanting demands for justice.
Two months ago a fatal shooting in the nearby suburb of Ferguson sparked weeks of unrest and international headlines.
Michael Brown, 18, was unarmed when he was killed by a white officer, who could face criminal charges.
A weekend of events and rallies are planned in the city of St Louis to protest about the Ferguson shooting and the wider issue of racial profiling.
State and city leaders have urged the Justice Department to investigate the circumstances of the latest death, which happened in the Shaw neighbourhood on Wednesday night.
"This here was racial profiling turned deadly," Democratic state Senator Jamilah Nasheed told a news conference.
According to police, the 32-year-old off-duty officer thought one of the men was carrying a weapon, so chased him and a confrontation followed.
During the altercation, the man fired at the officer, who returned fire and killed him.
The officer fired 17 times and a preliminary autopsy showed Myers was hit once in the head and six or seven times in his lower extremities.
But some witnesses say he was only carrying a sandwich.
After a quiet candlelight prayer vigil for him on Thursday night, hundreds of people joined a more rowdy gathering.
Police in riot gear lined up as protesters shouted abuse at officers, who used pepper spray to force the crowd back.
There were shouts of "This is what democracy looks like!'' and police vans were attacked.
The latest incident began when the officer spotted three men running away from him in Shaw neighbourhood, says St Louis Police Chief Colonel Sam Dotson.