Ebola outbreak: US prepares for more infections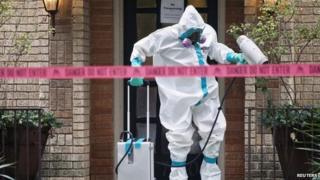 Ebola could infect more US health workers, a senior official leading the effort to contain the virus has said.
Investigators are now interviewing hospital staff who cared for Liberian Thomas Duncan, who died in Dallas, said Tom Frieden, of the Centers for Disease Control (CDC).
A woman who treated Duncan has been diagnosed with Ebola, and has been identified by US media as Nina Pham.
The outbreak has killed more than 4,000 people in Africa since March.
Duncan died last week in hospital in Dallas, Texas, after being diagnosed with the disease on 30 September.
The World Health Organisation (WHO) warned the epidemic threatens the "very survival" of societies and could lead to failed states.
The Dallas nurse being treated for Ebola contracted the virus from Duncan despite taking considerable precautions to shield herself.
Ms Pham received an antibody-filled plasma infusion received from a doctor previously treated for the virus.
On Sunday, Dr Frieden said a "breach of protocol" had clearly occurred, though on Monday he clarified that he had not intended to fault the nurse nor Texas Health Presbyterian Hospital.
"We have to rethink the way we address Ebola infection control because even a single infection is unacceptable," Dr Frieden said on Monday.
---
Avoid direct contact with sick patients
Wear goggles to protect eyes
Clothing and clinical waste should be incinerated and any medical equipment that needs to be kept should be decontaminated
People who recover from Ebola should abstain from sex or use condoms for three months
---
'Think Ebola'
The infection made the nurse the first person to contract Ebola inside the US. She is now said to be in a stable condition in hospital.
Her home has been cleaned and sanitised.
From an interview with the 26-year-old nurse, public health investigators have identified only a single person with whom she had contact during the period when she could have been infectious.
That person, along with 48 contacts of Duncan and the healthcare workers who treated him, are being monitored for signs of the disease.
"All of us have to work together to do whatever's possible to reduce the risk that any healthcare worker becomes infected," Dr Frieden said.
Dr Frieden also said the CDC was encouraging all hospitals in the US to "think Ebola" when presented with patients who had Ebola-like symptoms and who had travelled within the past 21 days to Sierra Leone, Liberia and Guinea, the three West African countries being ravaged by the disease.