Ann Romney says family is 'done' with presidential runs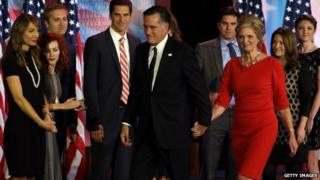 The wife of former Republican presidential candidate Mitt Romney has denied he will make a third bid for the White House, amid reports his backers are pressing him to run in 2016.
Ann Romney told NBC News her family was "done done done".
Mr Romney, a businessman and ex-Massachusetts governor, lost to Barack Obama in 2012 and ran unsuccessfully for the Republican nomination in 2008.
The 2016 Republican field is expected to be wide open.
Mr Obama, a Democrat, is barred by term limits from running again. With the future direction of the Republican Party being hotly debated, some Republican donors are pushing Mr Romney to consider another presidential run.
A recent opinion poll suggested Mr Romney led the field including Congressman Paul Ryan, Senator Rand Paul, New Jersey Governor Chris Christie and former Florida Governor Jeb Bush, among others.
On Tuesday, Mrs Romney denied the family was even weighing a run, in an interview promoting the launch of a new neurological disease centre at Brigham and Women's Hospital in Boston bearing her name.
Mrs Romney was diagnosed with multiple sclerosis, a degenerative neurological disease, in 1998.
"It was hard. We've done it. We've had our turn," she said about her husband's presidential campaigns. "Not only Mitt and I are done, but the kids are done."