Texas Ebola nurse Nina Pham 'doing well'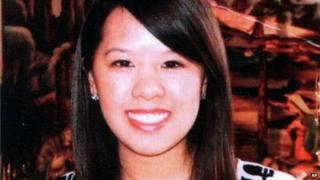 A Texas nurse diagnosed with Ebola has thanked well-wishers for their support and prayers as she undergoes treatment for the deadly virus.
Nina Pham, 26, wrote she was "doing well" in a statement on Tuesday.
Ms Pham was exposed to Ebola when she treated Liberian Thomas Duncan - the first person diagnosed with the virus on US soil - at a Dallas hospital.
The outbreak has killed more than 4,400 people in Liberia, Sierra Leone and Guinea since March.
"I am blessed by the support of family and friends and am blessed to be cared for by the best team of doctors and nurses in the world here at Texas Health Presbyterian Hospital Dallas," Ms Pham wrote in the statement distributed by the hospital, her employer.
She has received an antibody-filled plasma infusion provided by a doctor, Kent Brantley, previously treated for the virus.
Barclay Berdan, chief executive officer of parent company Texas Health Resources, said her medical team were "hopeful".
The Dallas nurse contracted the virus from Duncan, who died last week, despite taking the standard precautions to shield herself.
Dr Tom Frieden, director of the US Centers for Disease Control and Prevention, said on Sunday a "breach of protocol" enabled her to contract the virus.
Health workers across the US were "very distressed" that a nurse could have been infected, he said as he set out a new action plan:
a "site manager" will supervise how workers at the Dallas hospital put on and take off their protective clothing
two nurses from Emory University Hospital in Atlanta will offer "enhanced training" in Dallas
the number of staff in direct contact with Ms Pham will be limited
an immediate response team will travel to the site of any future Ebola diagnoses to hit the ground "within hours"
new guidelines for testing at hospitals throughout the US, with special emphasis on asking questions about travel history
Only one person had contact with Ms Pham during the period when she could have been infectious.
But the number of healthcare workers potentially exposed to Duncan has been increased to 76.
"I wish we had put a team on the ground the day the first patient was diagnosed," Dr Frieden admitted.
Also on Tuesday, Facebook founder and chief executive officer Mark Zuckerberg and his wife Priscilla Chan pledged $25m (£16m) to help fight the Ebola epidemic.
Their contribution follows a warning by the World Health Organisation (WHO) that there could be up to 10,000 new cases a week within two months if efforts to contain the outbreak were not intensified.