Jordan Davis: Life sentence without parole for Dunn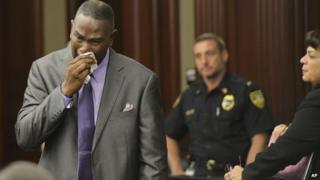 The Florida man who shot and killed a teenager in an argument over his loud music has been sentenced to life in prison without eligibility for parole.
Michael Dunn, 47, was convicted of the first-degree murder of Jordan Davis, 17, on 1 October, in his second trial.
He fired 10 times into Davis' vehicle in Jacksonville, Florida, after a dispute in a store car park.
Dunn has maintained he fired in self-defence, saying he believed Davis was reaching for a gun.
Police never found a firearm and witnesses say they did not see one.
The trial was Dunn's second. Earlier in the year he was found guilty of three charges of attempted murder in connection with Davis' friends who were also in the car, and shooting into a vehicle, but the jury deadlocked on the murder charge.
In Jacksonville on Friday, Judge Russell Healey also sentenced him to 30 years for each attempted murder charge and 15 years for shooting into a vehicle.
"Mr Dunn, your life is effectively over," Judge Healey said. "What is sad... is that this case exemplifies that our society seems to have lost its way."
Florida prosecutors declined to seek the death penalty and Davis' family said they did not want Dunn to be executed.
Davis' mother Lucy McBath said in a statement that her son's death had robbed her of the opportunity to see him grow up, according to the Jacksonville Times-Union.
"For years to come, I will be forced to celebrate his birthday without his presence," she said. "As I quietly watch my friends' boys grow into young men, I will forever be reminded of what might've been for my Jordan."
Ms McBath said she forgave Dunn because she taught her son to forgive.
In his own brief statement, Dunn said, "I truly regret what happened."
"If I could roll back time and do things differently I would. Still, I'm mortified I took a life, whether it was justified or not."
On the evening of 23 November 2012, Dunn and his fiancee parked at a convenience store in Jacksonville, Florida, after attending his son's wedding.
Davis and three other teenage boys, all African American, had stopped at the same place after visiting a shopping mall.
Dunn, a software developer, testified at his trial that the music blasting from the boys' sport utility vehicle, next to his, was so loud it hurt his ears, and he asked them to turn it down.
But Davis, sitting in the back, ordered his friend in the front seat to turn the music back up, Dunn testified. Dunn said Davis became verbally abusive and threatened his life.
Dunn claimed the teenagers inside the vehicle wore "menacing expressions" and told the court he saw Davis reach down for something that looked like the barrel of a shotgun.
Dunn reached into his glove box, withdrew a pistol and fired at the vehicle, killing Davis.
Prosecutors said Dunn failed to call police or first responders after shooting 10 times, and instead returned to his hotel, ordered pizza, walked his dog and went to sleep.