Hannah Graham: Body found in US missing girl search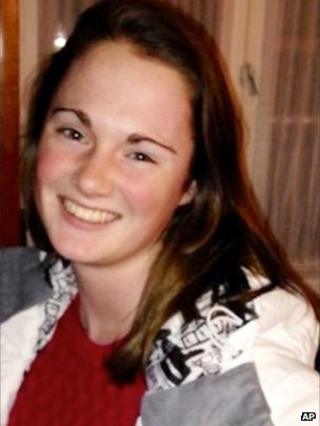 Virginia police say they have found a body which could be that of British-born student Hannah Graham, 18, who vanished in Charlottesville last month.
It was discovered in an abandoned property in Albemarle County, where the remains of another missing student were found in 2010.
Jesse Matthew, 32, was charged last month with abducting Ms Graham for the purpose of sexual assault.
Police are linking him to the earlier disappearance, and to a rape in 2012.
He was taken into custody by police in Galveston, Texas, 1,300 miles (2,092km) from where Ms Graham was last seen.
Thousands of volunteers searched areas of Virginia after the disappearance of the 18-year-old, who was born in Reading, southern England, and moved to the US with her parents at the age of five.
At the time of her disappearance. Miss Graham had been in her second year of study at the University of Virginia, where she was described as a bright student who got top marks in her exams.
CCTV footage
Charlottesville police chief Timothy J Longo said officers had contacted Ms Graham's parents shortly after a search team found a body just before noon (16:00GMT) on Saturday and made a preliminary identification.
Positive identification would only be made after a post-mortem conducted by the state medical examiner, Det Sgt James Mooney of the Charlottesville Police Department told local media.
Mr Matthew, a nursing assistant, was identified as a suspect soon after Ms Graham's disappearance.
Witnesses reported seeing a man matching his physical description drinking with Ms Graham on the night she went missing, and he appeared twice in CCTV footage walking alongside her, police said.
At 01:20, Ms Graham sent a text message to a friend saying she had got lost after an evening of drinking and socialising in the town. She was not seen or heard from again.
The following day, police searched Mr Matthew's apartment and vehicle. He then visited a Charlottesville police station accompanied by relatives, spoke briefly with officers and asked for a lawyer.
When he was released, he drove away from the police station at high speed, prompting police to charge him with reckless driving and obtain a warrant for his arrest.
By the following Tuesday, investigators said they had gathered enough evidence to charge him with abduction "with intent to defile", a charge in Virginia which means kidnapping with the motive of sexual assault.
Mr Longo said Mr Matthew's arrest had also provided a "forensic link" to the case of Virginia Tech student Morgan Harrington, 20, who went missing from Charlottesville in October 2009.
Her body was found on a farm in Albemarle County three months after she went missing.
Ms Harrington's case has been linked by DNA evidence since 2012 to the rape of a woman in Fairfax, Virginia, who survived after a passer-by startled her attacker, the FBI says.