Disabled Russian container ship tugged away from Canada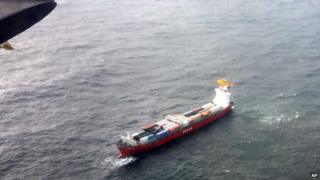 A disabled Russian container ship is being pulled away from Canada's shore after earlier becoming detached from its tugboat.
The Simushir, which is without power, is carrying hundreds of tonnes of fuel and was at risk of running aground when it was closer to shore.
However a coastguard spokesman said the vessel was far away from the shore and did not now pose that risk.
The Russia-bound ship left Washington and lost power on Friday morning.
The Canadian Coast Guard had attached a tow line to the vessel, but on Saturday the line became detached, leaving the vessel drifting for six hours in rough seas off British Columbia.
It had originally been feared that the ship might hit Haida Gwaii, also known as the Queen Charlotte Islands.
Currently the ship is being tugged until it is comfortably north of the islands before a decision is made on where it will be towed, the Associated Press quotes Canadian authorities as saying.
The ship had a crew of 11, and after it lost power on Friday the captain was rescued by helicopter.