Seven bodies linked to murder suspect found in Indiana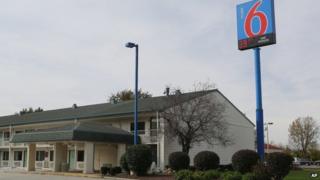 The bodies of seven women have been recovered in the US state of Indiana as a man confessed to a recent murder and led authorities to more.
Darren Vann, 43, confessed to strangling a woman whose body was found at a local motel on Friday.
He directed authorities to at least three other bodies, while three more were found over the weekend.
The body of Afrikka Hardy, 19, was found at a Motel 6 on Friday. She was reportedly strangled.
A police official has said Hardy was involved in prostitution and met Vann at the motel. Authorities were contacted by someone attempting to but unable to reach the victim.
A second victim has been identified as Anith Jones, 35, though tests to determine cause of death have yet to be performed on her or the other unidentified victims.
Jones, missing since 8 October, was found in an abandoned home.
Officials say Vann confessed during an interview and told police where several other victims were located.
Investigators have yet to say how he knew the victims or offer a motive in the attacks.
On Monday, Hammond, Indiana, Police Chief John Doughty informed reporters Vann had told investigators he may have killed people for up to two decades.
Mr Doughty also said the victims discovered over the weekend had all been killed recently, but he did not stipulate whether there may be more murders unaccounted for.
On Monday, the mayor of Gary, Indiana said the suspect had previously been convicted of sex crimes in the US state of Texas in 2009.
It is unclear how long he has been in Indiana, or if more bodies will be found as the investigation continues.