Mental exam for White House 'intruder' Omar Gonzalez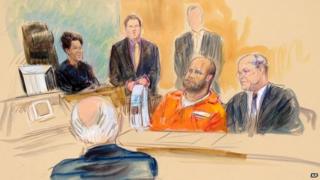 A judge has ordered a mental health evaluation for the man accused of scaling the White House fence and running into the building with a knife.
Omar Gonzalez, 42, has pleaded not guilty to several charges stemming from the incident.
He was tackled inside the White House on 19 September, and 800 rounds of ammunition, two hatchets and a machete were found in his car, officials say.
A screening that day suggested he was not competent to stand trial.
On Tuesday, a federal judge in Washington ordered him to undergo a 30-day mental health evaluation, delaying the court proceedings.
His attorney David Bos maintains his client will ultimately be declared fit to stand trial.
Prosecutors say Mr Gonzalez jumped the main fence around the White House, dashed across the lawn and gained entry through an unlocked door, then barrelled past a guard and ran into the East Room before being tackled.
Known to authorities
After he was apprehended, he told a Secret Service agent he was worried the atmosphere was collapsing and he needed to inform the president, officials said.
President Barack Obama and his family were not at the White House when the intrusion happened, having departed about 10 minutes earlier by helicopter.
Mr Gonzalez, an Iraq War veteran said to suffer from post-traumatic stress disorder, was previously stopped by Virginia police in July.
Officers found two powerful rifles, four handguns and other firearms and ammunition in his vehicle along with a map marking the White House.
In addition, it has been reported Secret Service agents interviewed Mr Gonzalez twice during the summer but concluded he was not a security threat.
On 16 October, three new charges were filed against him: two federal counts of assaulting, resisting, or impeding certain officers or employees, and one count of unlawful possession of a large capacity ammunition feeding device.
Those come in addition to the initial charges of entering a restricted building or grounds while carrying a deadly or dangerous weapon and unlawful possession of ammunition.
He is next scheduled to appear in court on 3 December.