Ebola: US restricts airport arrivals from West Africa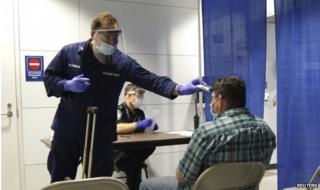 New US rules requiring air passengers from the three West African countries worst hit by Ebola to travel via one of five airports are coming into effect.
Travellers from Sierra Leone, Liberia or Guinea must now arrive at O'Hare in Chicago, JFK, Newark, Washington's Dulles or Atlanta, where they will undergo enhanced screening.
The World Health Organisation is due to convene an emergency meeting later.
The current outbreak of the virus has already killed more than 4,500 people.
Most of the deaths have been in Guinea, Liberia and Sierra Leone.
Travellers from these countries will have their temperatures checked as part of screening programmes, despite experts warning such moves are unlikely to have an impact.
The new security measures will only affect about 6% of passengers arriving from these countries, because the vast majority go to those five airports anyway.
But it comes as public concern grows in the US, where three people have been infected and one person has died from the virus.
---
Avoid direct contact with sick patients as the virus is spread through contaminated body fluids
Wear protective cover for eyes
Clothing and clinical waste should be incinerated and any medical equipment that needs to be kept should be decontaminated
People who recover from Ebola should abstain from sex or use condoms for three months
---
The precautions stop short of the travel ban sought by some US Congress members.
Meanwhile, the family of Thomas Eric Duncan, a Liberian man who died from Ebola in the US earlier this month, say hospital officials have refused to release information about his treatment, the Associated Press reports.
It comes amid claims that staff at Texas Health Presbyterian hospital mishandled the case.
"None of the procedures were discussed with the family,'' his nephew, Josephus Weeks, told AP.
In other developments:
The WHO says a treatment using serum made from the blood of Ebola patients who have recovered could be available within weeks in West Africa
NBC freelance cameraman Ashoka Mukpo - who contracted Ebola in West Africa - has been declared free of the virus and will leave hospital in the US state of Nebraska on Wednesday
Police imposed a daytime curfew in Sierra Leone's diamond-rich Kono district after angry youths resisted efforts to "quarantine" a house where a 90-year-old woman suspected to have Ebola lived
UK International Development Secretary Justine Greening will visit Sierra Leone on Wednesday to assess the impact of the government's $200m (£125m) aid package
The Dominican Republic joins a group of Caribbean countries that have banned visitors from the three West African nations
The WHO has said it will convene an emergency meeting on Ebola in Geneva on Wednesday to discuss whether additional measures were needed to fight the outbreak in West Africa.
US Homeland Security Secretary Jeh Johnson said authorities were working closely with airlines to introduce the latest US restrictions with "minimal travel disruption".
There are no direct scheduled flights to the United States from Liberia, Sierra Leone or Guinea.
But Mr Johnson said officials were working to indentify anyone who might have been to one of these countries in the past 21 days.
---
Ebola virus disease (EVD)
Symptoms include high fever, bleeding and central nervous system damage
Spread by body fluids, such as blood and saliva
Fatality rate can reach 90% - but current outbreak has mortality rate of about 70%
Incubation period is two to 21 days
There is no proven vaccine or cure
Supportive care such as rehydrating patients who have diarrhoea and vomiting can help recovery
Fruit bats, a delicacy for some West Africans, are considered to be virus's natural host
Ebola virus: Busting the myths
---