Dogs help arrest intruder who jumped White House fence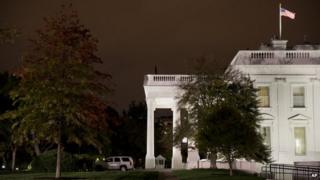 A man who jumped the White House fence was attacked by dogs before being arrested, in the latest security breach at the president's official residence.
Dominic Adesanya, 23, was stopped on a lawn near the building. He was unarmed.
Video footage of the incident showed him kicking and punching Secret Service dogs who had been set on him.
It comes a month after a man armed with a knife scaled the fence and made it inside the White House.
That, and other questions about security at the White House, led to the resignation of the head of the Secret Service, Julia Pierson.
A spokesman for the agency said Mr Adesanya had since been charged with two counts of assault on a police dog handler, one count of making threats and four counts of resisting arrest and unlawful entry.
Two dogs have been taken to the vet for treatment for their injuries, the spokesman added.
Meanwhile, it has emerged that in 2011, the Secret Service diverted agents from their duties at the White House to the home of an agency employee caught in a personal dispute with a neighbour.
The inspector general of the Homeland Security Department, John Roth, called the conduct a "serious lapse of judgement".