Body of Hannah Graham identified in Virginia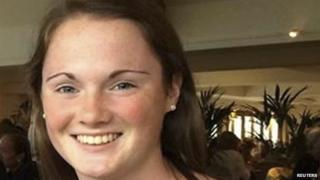 Authorities in Virginia have identified the remains of a British-born university student who disappeared last month after a night out with friends.
The body of Hannah Graham, 18, was found in a rural county on 18 October.
Jesse Matthew, 32, has been charged with kidnapping with intent to defile in connection with her disappearance, after witnesses and CCTV placed them together the night she disappeared.
State prosecutors say they are weighing additional charges in the case.
In a statement Hannah's parents John and Sue Graham thanked the authorities and the University of Virginia community for their support and help in finding their daughter.
"Although we have lost our precious Hannah, the light she radiated can never be extinguished," they said. "We will hold it in our hearts forever and it will help sustain us as we face a painful future without her."
Ms Graham of Fairfax, Virginia, had just begun her second year at the University of Virginia when she went out socialising with friends in Charlottesville on the night of 12-13 September.
She was last heard from when she reportedly sent a text message to a friend saying she was lost.
Mr Matthew, a local nursing aide, was arrested about two weeks later, and has since separately been charged with the 2005 rape and attempted murder of another young woman in Fairfax County, Virginia.
Police are also investigating him in connection with the death of another Virginia university student in 2009, and the rape of a woman in Fairfax in 2012.
Ms Graham was born in Reading, England, and moved with her parents to the US when she was five.