Ebola outbreak: US nurse criticises quarantine treatment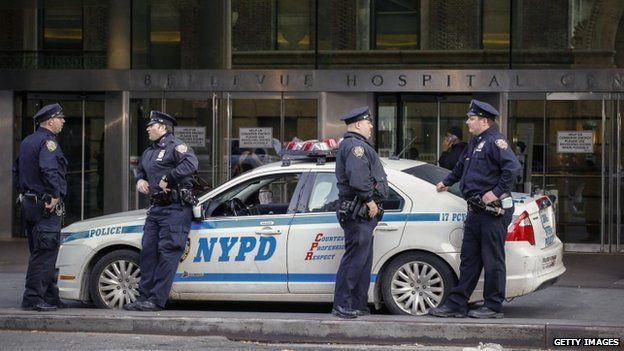 A nurse quarantined on her return to the US from treating Ebola patients in Sierra Leone has criticised the way she was dealt with at Newark airport.
Kaci Hickox said the experience was frightening and could deter other health workers from travelling to West Africa to help tackle the Ebola virus.
Illinois has become the third state after New York and New Jersey to impose stricter quarantine rules.
Meanwhile the US ambassador to the United Nations is to visit West Africa.
Samantha Power will travel to Guinea on Sunday, continuing later to Liberia and Sierra Leone - the three worst-hit countries.
"For me the benefits of having first hand knowledge of what is happening in these countries gravely outweighs the almost nonexistent risk of actually travelling to these countries, provided I take the proper precautions," she said on Saturday.
She said she hoped her trip would "draw attention to the need for increased support for the international response".
The White House has expressed concern that strict quarantine restrictions such as those imposed by state governments in New York, New Jersey and Illinois could put off aid workers and others travelling to West Africa to help mitigate the crisis at its source.
Only 27 of the cases have occurred outside Sierra Leone, Liberia and Guinea.
Ms Hickox, of medical charity Doctors Without Borders, described seeing a "frenzy of disorganisation, fear and most frightening, quarantine" on her return from Sierra Leone on Friday.
"Will they be made to feel like criminals and prisoners?" she questioned.
She said she was kept in isolation at the airport terminal for seven hours and given only a cereal bar to eat.
She also denied that she had had a fever, saying she was merely flushed because of the upset caused by her treatment at the airport.
Though Ms Hickox tested negative in a preliminary test for the virus, she will remain under quarantine for three weeks and continue to be monitored by health officials.
Stricter quarantine measures were put in place in New York and New Jersey after a doctor, Craig Spencer, tested positive for the virus on his return from Guinea last week.
He is currently being treated at New York's Bellevue Hospital in isolation.
The new measures mean that anyone who has had contact with Ebola victims in West Africa now faces a mandatory 21-day quarantine period.
Illinois governor Pat Quinn announced on Saturday that his state would start imposing the same measures, without providing further details.
Meanwhile, New York City Mayor Bill de Blasio said he was not consulted over the new rules, which were ordered by the state governors of New York and New Jersey.
"The state has the right to make its decision, just like the CDC [US Centers for Disease Control and Prevention] does, and we're going to work with them," he told reporters on Saturday.
US President Barack Obama said in his weekly radio and online address that Americans had "to be guided by the facts - not fear", reiterating that people cannot contract Ebola unless they have come into direct contact with an infected patient's bodily fluids.
His comments follow the release of the WHO's latest report, which warned that the number of Ebola cases in West Africa could be much higher than recorded, as many families were keeping relatives at home rather than taking them to treatment centres.
Malian President Ibrahim Boubacar Keita sought to allay fears after Mali became the latest nation to record a death from Ebola.
He told French radio on Saturday that "all measures" had been taken since the start of the epidemic, adding: "We are doing everything to prevent panic and psychosis."
More than 40 people known to have come into contact with the two-year-old girl who died have been quarantined, and the authorities are still trying to track down others.
He said the border with Guinea would remain open.
However, officials in neighbouring Mauritania said it had closed its borders with Mali in response to the case.
Ebola virus disease (EVD)
Symptoms include high fever, bleeding and central nervous system damage
Spread by body fluids, such as blood and saliva
Fatality rate can reach 90% - but current outbreak has mortality rate of about 70%
No proven vaccine or cure
Fruit bats, a delicacy for some West Africans, are considered to be virus's natural host