Canada gunman made video showing 'ideological and political motives'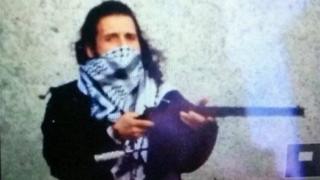 A video made by the gunman who stormed Canada's parliament and shot dead a soldier shows ideological and political motives for the attack, police say.
Michael Zehaf-Bibeau had prepared the video prior to last Wednesday's attack, Royal Canadian Mounted Police Commissioner Bob Paulson said.
Police are continuing to analyse the video, which has not yet been released.
Zehaf-Bibeau killed a soldier at Ottawa's war memorial before being shot dead in the nearby parliament building.
The Canadian authorities said the gunman was radicalised but had no ties to Middle Eastern Islamist extremists.
Prime Minister Stephen Harper, who hid inside a cupboard in parliament for about 15 minutes during the incident, has described it as a terror attack.
Access to 'considerable funds'
Canadian police have "persuasive evidence that Michael Zehaf-Bibeau's attack was driven by ideological and political motives," Mr Paulson said in a statement on Sunday.
He said a knife carried by Zehaf-Bibeau was taken from his aunt's property in Mont Tremblant, Quebec, and that police were continuing to investigate how he obtained the gun, described as "old and uncommon".
The gunman had access "to a considerable amount of funds" after saving up money through his work in oil fields in the province of Alberta, he continued.
He also said the perpetrator's interactions with "numerous individuals" in the run up to the attack were under investigation.
No further details of the video have been released.
Zehaf-Bibeau, 32, shot dead Corporal Nathan Cirillo outside Ottawa's war memorial last Wednesday, before entering parliament and firing dozens of shots.
He was shot dead by by Sergeant-at-arms Kevin Vickers, 58.
---
The attacker
Thirty-two-year-old Michael Zehaf-Bibeau, a petty criminal with a history of convictions for minor drug offences and theft
Officials believe he recently converted to Islam; a friend he met at a mosque described him as unstable
Mother reported to be an immigration official, his father a Libyan who once ran a cafe in Montreal
The suspect: A trail of petty crime
---