Marysville shooting: Second girl dies in Washington state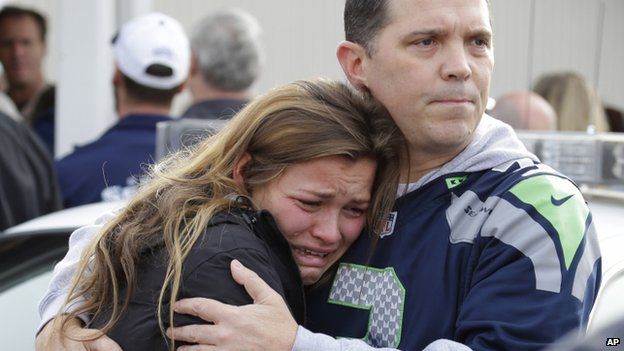 A second girl has died of wounds she suffered in a US school shooting in Washington state which ended when a young man fatally shot himself.
Gia Soriano, 14, was targeted during a gun rampage by fellow pupil Jaylen Fryberg near Seattle on Friday.
Her family said in a statement they were "devastated by this senseless tragedy".
Police said the killer had invited his friends by text message to the canteen where he carried out the attack.
Fryberg arranged to meet three friends and two cousins for lunch at Marysville-Pilchuck High School, Snohomish County Sheriff Ty Trenary told reporters on Monday.
He pulled out a handgun in the cafeteria and started shooting.
Zoe Galasso, 14, was also killed in the attack at Marysville Pilchuck High School.
Three other students targeted by Fryberg - including two of his cousins - remain in hospital. Two are in a critical condition, while one was upgraded to satisfactory on Monday.
All were shot in the head after the boy pulled out a weapon and started firing in the school cafeteria.
Reports have emerged about the heroics of one teacher, Megan Silberberger, who ran to the scene of the shooting and "did everything possible to protect students", according to a statement from her union.
It was unclear whether Fryberg had killed himself deliberately or whether the gun had been fired by accident as he struggled with the teacher.
Fryberg, who was from a prominent Tulalip Indian Reservation family, was described as a popular, outgoing student, though messages he posted online before the attack suggested he had been "broken" by an unspecified event.
One pupil at the school told the Reuters news agency that the attack was related to a "fight over a girl".
Gia Soriano's organs will be donated for transplant, officials at Providence Regional Medical Center Everett said.
"We are devastated by this senseless tragedy," her family said in a statement. "Gia is our beautiful daughter, and words cannot express how much we will miss her."
The school will be closed this week
On Sunday, parents and students gathered in a gymnasium at the school for a community meeting, with speakers urging support and prayers.
"Our legs are still wobbly," Tony Hatch, a cousin of one of the injured students, said.
Matt Remle, a tribal guidance counsellor, told the Associated Press news agency the first-year students were polite and close-knit.
"These were not kids who were isolated," he said. "They had some amazing families and have amazing families."
The community was struggling to understand the attack, Mr Remble said.
"We can't answer that question," he said. "But we try to make sense of the senselessness."