Canada outlines 'lone wolf' threat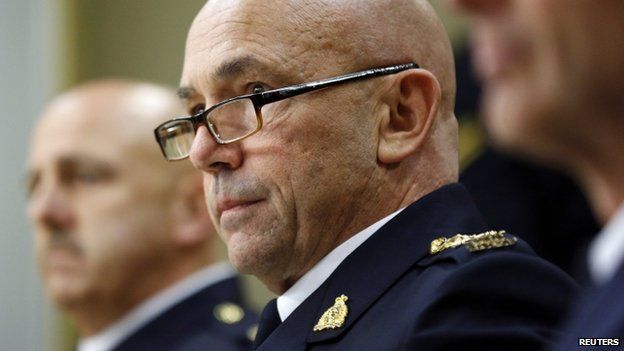 Radicalised lone wolf gunmen present "a much more challenging threat" for authorities, the head of the Royal Canadian Mounted Police has said.
RCMP Commissioner Bob Paulson testified before a Senate committee on Monday, just days after a gunman killed a soldier and stormed parliament.
A video made by Michael Zehaf-Bibeau indicates ideological and political motives for the attack, said police.
Plots by lone individuals are harder to anticipate, said Mr Paulson.
"The more elaborate the plot is, the more likely it is we are able to respond, and in advance," he testified, adding authorities are more able to pick up chatter or hints of a coordinated attack.
The top Mountie's comments come one week after Canada experienced two separate attacks authorities say were perpetrated by radicalised individuals.
On 20 October, a man - said to be influenced by extreme Islamists and on a security watch list - struck two Canadian soldiers with his car before being shot dead by police.
Two days later, Zehaf-Bibeau, 32, shot dead Corporal Nathan Cirillo outside Ottawa's war memorial before entering parliament and firing dozens of shots.
He was shot dead by by Sergeant-at-arms Kevin Vickers, 58.
On Monday, Mr Paulson said that attack was carried out with "seemingly little to no preparation".
"The magnitude of the threat is perhaps best characterised as serious," Mr Paulson testified. "It does feel as if the events of the last couple of days have led to a sense of loss and vulnerability.
Thirty-two-year-old Michael Zehaf-Bibeau, a petty criminal with a history of convictions for minor drug offences and theft
Officials believe he recently converted to Islam; a friend he met at a mosque described him as unstable
Mother reported to be an immigration official, his father a Libyan who once ran a cafe in Montreal
Canadian authorities have said the gunman was radicalised but had no ties to Middle Eastern Islamist extremists.
Police are continuing to analyse a video Zehaf-Bibeau made prior to the attack, as well as investigate several individuals in contact with the gunman before the incident.
On Monday, Mr Paulson told Canadian officials more must be done to prevent homegrown radicals from receiving militant training overseas.
"While we are facing this threat at home, we must focus our efforts on preventing individuals travelling abroad to commit to commit acts of terrorism," Paulson said.
"Preventing the individuals from travelling is critical," he added. "If these individuals return with training and/or battle experience, they pose an even greater threat to Canada and our allies."
The Canadian government is expected to soon introduce a bill broadening the powers of the Canadian Security Intelligence Service.
The bill is said to allow the service to track potential terrorists when they travel outside of Canada.
Earlier this month, the country announced plans to join the US-led campaign of air strikes against Islamic State (IS) militants in Iraq.