Man goes missing during NFL game in Denver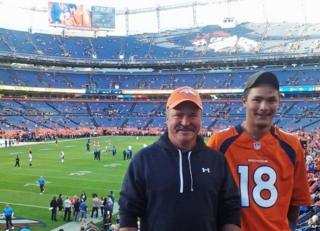 Denver police are reviewing CCTV footage after a man went missing while attending a professional football game.
Paul Kitterman, 53, was last seen on Thursday at the Denver Broncos' stadium, after obtaining last-minute tickets from a friend.
His stepson, Jarod Tonneson, who attended the game with him, said he left his seat at half-time and did not come back.
Denver police say they have no evidence the disappearance is suspicious.
Investigators are reviewing hundreds of hours of surveillance video from the stadium, but have not located Mr Kitterman, police spokesman Sonny Jackson told CNN.
"We don't know if he voluntarily walked away," Mr Jackson said. "We don't specifically see any foul play… but the fact is we are not ruling anything out."
Mr Tonneson has searched the 76,000-seat stadium, called local hospitals and put flyers up around the city.
"We just don't know what else to do," he said.
"Paul is a simple guy, he doesn't like technology, he doesn't get into drama. He's just an easygoing guy."
The two men had been working and hunting on a friend's ranch in the north-western mountains outside Denver before the game and had made a 100-mile drive to attend.
Their friends, Tia Bakke and her boyfriend, had invited them to the game at the last minute but in his hurry, Mr Kitterman left his mobile phone behind and only had very little cash.
Ms Bakke said she and her boyfriend had sat in another part of the stadium but she told CNN she had made plans to meet Mr Kitterman at a specific gate after the game, but he never showed.
"He wouldn't leave Jarod for all the money in the world," Ms Bakke told CNN. "He had plans the next day. He had things he wanted to do."
Mr Kitterman lives in Kremmling, northwest of Denver, and was attending his first NFL game.