'Operation' inventor raises funds for operation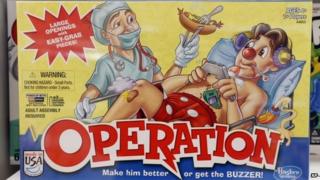 The inventor of the popular board game Operation is in desperate need of money to pay for a real-life operation.
Friends of John Spinello, 77, are hoping to raise $25,000 (£15,400) on a crowdfunding site for oral surgery not covered by his insurance.
Mr Spinello sold the game for $500 in 1964 and is not entitled to royalties.
He is also planning an auction of the original prototype to raise additional money, according to the Huffington Post.
"John has had a good life, but has admitted to us that he is struggling to pay his bills and is in need of a medical procedure without sufficient insurance coverage," organisers Tim Walsh and Peggy Brown wrote on CrowdRise.com.
In the popular game players use tweezers to pull small plastic pieces representing medical ailments out of a "patient". If the tweezers hit the metal rims of the holes in the patient, the board emits a buzz and the player loses a turn.
Mr Spinello told the Huffington Post he was not resentful over the lack of royalties from the game, one of 12 finalists this year for induction into the National Toy Hall of Fame.
"Look, everyone needs medical care," Mr Spinello told the website.
"I prefer not to dwell on that aspect and focus more on the joy that the game has brought to so many over the years."