In Kansas, Democrats looking to pounce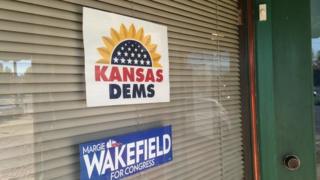 Semi-disastrous results from a Reagan-era income-tax "experiment" carried out by Governor Sam Brownback offers an opportunity to liberals in the US state of Kansas. But will they be able to vote him out of office?
Joan Wagnon, the state Democratic Party chairwoman, points to a door inside the regional headquarters. "The war room," she says.
The "war room" is actually spread across two cities, with one in the headquarters in Topeka and another in an office in Lawrence. They're manned by lawyers, teachers and others who've joined a fierce battle to reclaim Kansas from hard-right conservatives.
Polls done by SurveyUSA and NBC/Marist College show the gubernatorial candidates, Brownback, the incumbent Republican, and Paul Davis, the minority leader in the state's House of Representatives, within points of each other. Statistically they're in a dead heat.
It wasn't supposed to be this way: Brownback originally promised that Kansas would be proof positive of Republican policies' merit.
Working with economist Arthur Laffer, a proponent of supply-side economics who rose to fame during the Reagan years, Brownback has overseen a drastic cut in income taxes during his time as governor.
He described it as a "real, live experiment" that would unleash economic prosperity for Kansans.
Instead the state has run low on money, and agencies such as Moody's and Standard and Poor's have downgraded Kansas' credit rating.
Meanwhile the state has cut spending on schools and transportation.
Employment nation-wide over the past year has gone up by 1.9%, while employment in Kansas increased by only 1%, according to the Center for Economic Development and Business Research at Wichita State University.
Brownback's opponent, Paul Davis says he will get Kansas "back on track" and has attacked Brownback's policy on personal income tax. Still, Davis hasn't said much about what he'd actually do if he were elected governor.
Despite his reticence, he's picked up endorsements from dozens of moderate Republicans.
The fight for the governorship in Kansas is about more than taxes, though. It's about philosophy, reflecting a profound difference between liberals and conservatives in the way they see government and society.
Days before the election, Wagnon is shepherding people into the headquarters to pick up to yard signs. Many say they've been shocked by the tax programmes of Brownback, austere even by Kansas standards, and that he's forced them into action.
"I think Brownback has been a great gift to the Democrats in Kansas," says Jim Slattery, a former congressman with silver-white-and-brown eyebrows.
He strode through the headquarters, calling out to Wagnon: "I'm feeling good. How about you?"
"I'm feeling good, too," says Wagnon, who is wearing an argyle sweater and jeans.
The room is filled with roses, dyed red, white and blue, and a board that says: "Get out the vote!" Cut-out stars are stuck on the wall, and the place smells like coffee.
Wagnon, who served as Topeka mayor in the late 1990s and early 2000s while Brownback was a US Senator, has hired 16 staffers and opened four offices to combat him and other conservatives running in Tuesday's election.
She's worked hard to maintain the autonomy of Kansas Democrats and tries to keep their distance from the White House, especially as the popularity of the president tanks.
She says: "The Republican strategy has been to nationalise this election, saying, 'These people call Obama and talk to him.' Well, we don't."
That morning at the headquarters a campaigner, Richard Forque, who teaches at the University of Kansas, says he's a libertarian who watches Al Jazeera. He picks up a stack of papers from a table.
"I'm campaigning for a Democrat because I understand that every-man-for-himself doesn't work," he says. "I believe government is essential at certain levels. Brownback is robbing basic services."
Forque's ideas may not sound revolutionary on the east coast or in Europe. But things are different here.
He says half-jokingly he probably shouldn't have mentioned Al Jazeera in public because that could send "homeland security to my door".
Kansans are deeply conservative people who come from pioneer stock and pride themselves on hard work and toughness.
They have elected only Republicans to the US Senate since the 1930s. But they are not ideologically rigid or as flinty as they're sometimes portrayed.
"This 'pull-yourself-up-by-your-bootstraps' idea doesn't mean, 'Leave your neighbour hanging'," Wagnon says.
"What Kansans don't like is handouts," she says. "But people would always get together when someone's barn burns. Kansans think welfare is wrong, but helping others is good."
Plenty of governors of Kansas have been Democrats. They get elected every decade or so. The state has become more Republican in recent years, though, with the rise of the ultra-conservative politics in the western part of the state.
In 2010, the year Brownback was elected, Republicans in Kansas also won four House of Representatives races and all the state-wide offices.
Today not a single state-wide elected official is a Democrat. They're looked down upon, Wagnon says: "What I hear from people is 'Don't tell anybody I'm a Democrat."
This election could change that attitude, or it could result in another Republican win.
Later on Saturday on the other side of Topeka, Brownback chats with supporters in a campaign office. The room is decorated with wild sunflowers. A copy of Guideposts Magazine, a publication with features about "Angels on Earth", is displayed in a metal basket.
Wearing a Kansas City Royals jacket, zipped all the way up, Brownback defends his state-wide experiment in lower taxes. "It's working well," he tells me.
He says Kansans will soon see dramatic improvements in the economy, adding: "Tax policies take time."
When asked how he sees the role of government in society, he says: "My philosophy is, 'Do your core functions well. And then question whether you should do other things that are not core."
He tells me the government should be limited in scope. "The state can't hug you," he says.
On Tuesday the voters will decide what direction they will go in - doubling down on Brownback's conservative vision of society or choosing a new, more moderate path.