Ebola crisis: Kaci Hickox and Maine reach agreement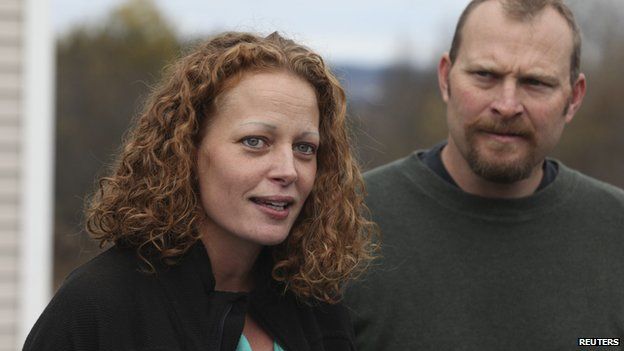 The US state of Maine has reached an agreement with a nurse who was briefly quarantined after treating victims of Ebola in West Africa.
Kaci Hickox has tested negative for Ebola twice and has no symptoms, but Maine officials went to court to try to bar her from crowded public places.
The deal complies with Friday's ruling by a judge that she should be free to travel but must monitor her health.
Only one person in the US is currently being treated for Ebola in New York.
"I am not going to sit around and be bullied around by politicians and be forced to stay in my home when I am not a risk to the American public," said Ms Hickox.
Ms Hickox travelled to Sierra Leone with the Doctors Without Borders medical charity when the outbreak erupted.
Upon her return to New Jersey on 24 October she was quarantined in a tent outside a hospital in the city for the weekend despite not showing any symptoms.
The following Monday she was released to return to Maine where she was monitored at her boyfriend's house in Fort Kent.
The recent infection of a doctor in New York who had returned from Guinea has sparked a debate in the US over isolation policies for healthcare workers who have been from West Africa.
Dr Craig Spencer had travelled on the subway and been bowling the night before he developed a fever, which is the point when people become contagious.
The governors of New York and New Jersey introduced mandatory quarantines as a result.
The mayor of New York however, took steps to try to quell fears of contagion by following in Dr Spencer's footsteps.
Mayor Bill de Blasio rode the subways, had dinner at The Meatball Shop restaurant where Dr Spencer ate and visited Bellevue Hospital Center's isolation chamber.
The UN Secretary General Ban Ki Moon has warned against "unnecessarily" strict restrictions on healthcare workers returning from West Africa, saying that their efforts were critical in the fight against the outbreak.
Ebola deaths
Figures up to 13 January 2016
11,315
Deaths - probable, confirmed and suspected
(Includes one in the US and six in Mali)
4,809 Liberia

3,955 Sierra Leone

2,536 Guinea

8 Nigeria
Getty
However, nearly 75% of Americans surveyed in a Reuters and Ipsos Mori poll said that they believed that healthcare workers who returned to the US after treating Ebola victims in West Africa should be quarantined.
Meanwhile a US teacher at a private school in Louisville, Kentucky has resigned instead of taking paid leave because of fears over Ebola.
Susan Sherman, a teacher at St Margaret Mary Catholic School is also a registered nurse and recently returned from a medical mission trip to Kenya, Louisville's The Courier-Journal reported.
Although Kenya is in eastern Africa and has not yet had any reported cases of Ebola, the school reportedly asked Ms Sherman to take three weeks of paid leave after parents raised concerns.
Meanwhile a doctor in Sierra Leone has died of Ebola, the fifth local doctor to die of the disease there.
Dr Godfrey George from the Kambia Government Hospital died two days after he had tested positive, a senior doctor confirmed to the BBC's Umaru Fofana in Freetown.