Michael Brown shooting: Ferguson braces for grand jury decision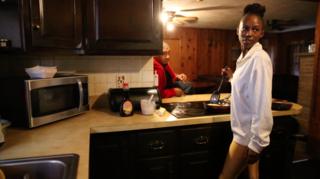 Sometime this month, a grand jury announcement is expected on whether or not to indict Darren Wilson, the Ferguson, Missouri, police officer who fatally shot unarmed teenager Michael Brown. The community of Ferguson is collectively holding its breath in anticipation of mass protests.
This family house is on a quiet residential street just up the road from one of Ferguson's primary schools. Close enough for nine-year-old Ja'siah to walk every morning and afternoon.
In this peaceful environment the Slaughter family is preparing for another round of unrest, possibly worse than in August, when weeks of protests followed the shooting of Brown, who is black, by Mr Wilson, who is white.
"We're getting gas masks and we're trying to protect ourselves," said Erica Slaughter, mother of two boys.
For the last two months Ms Slaughter and her mother Gail have been in front of the Ferguson police station several times a week to continue the protest over Brown's shooting.
They have several young men in the family and feel it could have been any one of them killed by an over-zealous police force.
While the women protest they try to maintain life as a family. Gail Slaughter puts dinner on her husband's plate before she hits the street with handmade signs, and Erica Slaughter is determined to keep things normal for her two sons.
Like many in the community, the two believe protests could reach another level if the grand jury decides not to indict Mr Wilson.
"I heard people say, 'Have you heard of the LA Riots? Well you're going to hear about the St Louis Riots and it's going to be worse,'" Gail Slaughter said.
---
Grand jury timeline
9 August: Michael Brown is fatally shot by Officer Darren Wilson, inciting unrest
20 August: Grand jury begins hearing evidence in the case
24 September: County prosecutor says grand jury needs about six more weeks
---
'Shelter in place'
What happens next - and how to protect thousands of children in the Ferguson-Florissant School District - has been on the minds of school officials and parents in recent weeks.
Acting Superintendent Larry Larew and six of his colleagues from other districts have asked county prosecutor Bob McCulloch to schedule the grand jury announcement after school hours or on the weekend.
"We have thousands of children in our care during the day and we're concerned about anything that would make it a challenge to re-unite our families with their children," said Jana Shortt, a spokeswoman for the school district.
"Throughout the community there's a tension that there's something on the horizon and you feel that everywhere you go."
The school district has been in touch with parents regularly to ask for updated contact information and to educate parents on what to do in a worst-case scenario when students have to "shelter in place".
At the same time the students themselves have benefitted from teachers discussing politics and government through the lens of the Ferguson events.
"It led to many meaningful conversations," Ms Shortt said. "They are witnessing history and while it's very difficult there can be learning that occurs."
Cop watch
On Canfield Drive, where the deadly shooting occurred, candles, toys and photos of Michael Brown still line the residential street. A pastor from a church just outside of Ferguson is showing the site to a colleague from New York.
"I have no faith in the grand jury announcement," said BT Rice. "It's inevitable because Darren Wilson is protected by the law. If he felt threatened, he protected himself."
Concerned about his church and the adjacent early childhood centre, Mr Rice says the police must brace themselves for the inevitable.
"The community has become more and more enraged. How do you say we hear your concerns if you haven't made any changes at all? The mayor is still in place, the police chief is still in place."
That the next protests will be different is almost certain. Police and residents alike are preparing themselves, having learned their lessons from August.
David Whitt lives just feet away from the shooting site and has been arming people with 200 cameras to get every police move on tape. He calls it his weapon.
"Constantly the police get away with it because we don't have proof. But we are getting ready to challenge the narrative," Mr Whitt said. "There is no trust. If there was trust I wouldn't need my camera."
Mr Whitt is not sure what will happen if the grand jury decides not to indict Mr Wilson, but he knows where he is going to point his camera.
"Understand that there will be a response from the people on some level," he said. "But the question is what will be the response of the police be?"
New equipment
In August, the most heavily criticised actions by law enforcement were directed at the St Louis County Police force, which took over for the small-town Ferguson department early on.
The world watched as protesters were met with military-style vehicles, snipers and assault rifles and a nightly dose of tear gas.
Amnesty International sent a group of observers to Florissant Road, the main protest site, during the height of the unrest - a first for an organisation not used to observing on US soil - and told the BBC then that "clear violations of human rights standards" were taking place.
Since August, county and city police have spent close to $500,000 (£316,000) on new equipment, according to the Associated Press and The Guardian, in anticipation of more unrest.
"We had repairs on some vehicles and purchased new riot gear helmets, batons, shin guards and less-lethal ammunition," St Louis County Police spokesman Brian Schellman said.
The department also purchased pepper-spray projectiles, teargas grenades and smoke canisters, according to documents obtained from county police.
Between 450-500 county police officers who could be responding to events in Ferguson will have received a four-hour training course in civil disturbance, civil rights, and the freedom of the press by the time they are deployed, Mr Schellman said.
"We are standing by as everyone else."
Business impact
In August, the staff and clients of Primetime Barber shop on Florissant Rd armed themselves with baseball bats and guarded their business throughout the night.
Months later, business is still down because fewer people want to come to this now infamous area. Tony Henley, the owner of Primetime, is worried about more protests in front of his store.
"I don't see it being normal anytime soon," said Mr Henley. "It looks like they just want to sweep this under the rug. We just want to feel equal and right now we're not feeling that way."
Thomas Bradley, who works at the barber shop, has been participating in the weekly protests in front of the police station. He foresees chaos if Mr Wilson is indicted on charges seen as insufficiently severe.
He bought himself a .357 Magnum revolver to be ready.
Almost half of the store fronts that were boarded up in August in reaction to the riots and looting are still untouched, in anticipation of more unrest.
Resident-turned-activist Bernie Frazier helped form a new group called "One Ferguson" to check in on businesses along the road. She is fighting the perception that Ferguson is anything but open for business - while at the same time remembering the impact of this summer.
"It's a balancing act because you want to keep this issue front and centre but we want to do it in a positive, productive and peaceful manner," she said.
Just a few minutes away in downtown Ferguson holiday decorations are being installed on the street lights. But the mood here is no different.
"The emotions are running a complete gambit. Sometimes you're optimistic, sometimes a complete dread, sometimes resilience because this is our community, our businesses and our homes," said Rob Chabot, owner of a mobile eye care business just down the road from the police station.
Having lived in town for two decades, Chabot spoke about Ferguson as a "dysfunctional family" but a family nevertheless.
He sits in a recently opened store featuring yard signs and clothing with "I love Ferguson" insignia. The proceeds of the sales go to businesses that were damaged and looted during the August unrests.
Mr Chabot, along with others who talked to the BBC, is hopeful that the reaction to the grand jury verdict will be peaceful. But a worst-case scenario is certainly on his mind.
"The wood [to board up windows] is cut at my office," he said. "I have security cameras installed and the doors are locked. I moved personal mementos into storage."
Residents and businesses alike struggle to imagine a better, more inclusive future for Ferguson.
The anticipation for the announcement weighs heavily on their minds, said Mr Chabot.
Living with fear of the unknown has put an emotional toll on the city, one that will be harder to overcome than the financial toll.
"That's something that I'm afraid we are going to lose," he said. "The emotional connection to the community."