Fourth US school attack victim dies in Washington state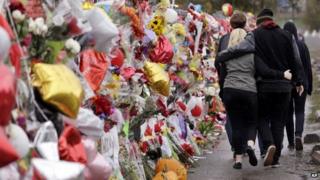 A fourth victim who was wounded in a US school shooting in Washington state last month has died.
Andrew Fryberg, 15, was a cousin of the killer and had been critically ill since the 24 October attack.
Jaylen Fryberg opened fire with a handgun in the cafeteria of Marysville-Pilchuck High School, near Seattle, before shooting himself dead.
Another cousin of the killer who was also injured in the incident was released from hospital on Thursday.
Jaylen Fryberg texted five friends to meet him for lunch, authorities said. Once seated at a table in the school's main cafeteria, he opened fire with a Beretta handgun.
The family of Andrew Fryberg paid tribute to the "amazing support from the community" after his death was announced on Friday and said that they had been "overwhelmed with the love and care" since the shootings.
Three girls, Gia Soriano, Zoe Galasso and Shaylee Chuckulnaskit, all aged 14, also died as a result of the attack.
The Frybergs are a prominent Tulalip Indian Reservation family. Jaylen was described as a popular, outgoing student prior to the attack though messages he posted online before it happened suggested he had been "broken" by an unspecified event.
One pupil at the school told the Reuters news agency that the attack was related to a "fight over a girl".
Reports have emerged about the heroics of one teacher, Megan Silberberger, who ran to the scene of the shooting and "did everything possible to protect students", according to a statement from her union.
It was unclear whether Fryberg had killed himself deliberately or whether the gun had been fired by accident as he struggled with the teacher.