Ex-Yemen President Saleh sanctioned by US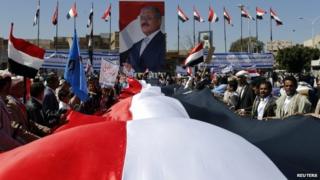 The US has blacklisted former Yemen president Ali Abdallah Saleh and two rebel commanders for threatening the country's peace and stability.
The former leader has allied himself with the Shia Houthi rebels in their bid to seize the capital Sanaa.
He and the two commanders are accused of supporting violence and undermining Yemen's government.
Yemen has been in a state of flux since 2012 when protests led to Mr Saleh standing down after 30 years in power.
A new unity cabinet, which included Houthi rebels who seized the capital in September, was formed last week in an effort to defuse political tensions.
Mr Saleh pulled his party from the new unity government on Saturday shortly after the UN voted to sanction him.
On Friday the United Nations Security Council voted for an asset freeze and global travel ban on the former president as well as rebel commanders Abdullah Yahya al-Hakim and Abd al-Khaliq al-Houthi.
In a statement on Monday, the US Treasury said it was imposing the sanctions "in conjunction with the unanimous United Nations (UN) Security Council action".
The three men will see their US assets frozen and be banned from doing business with Americans.
The US accuses Mr Saleh of destabilising Yemen "by using others to undermine the central government".
Mr Hakim is accused of plotting a coup against Yemeni President Abdrabbuh Mansou Hadi and along with Mr Houthi, making military preparations for continuing fighting even as political negotiations began.
The Houthi rebels, who belong to the minority Zaidi Shia community, have staged periodic uprisings since 2004 to win greater autonomy for their northern heartlands.
Under a UN-brokered deal after the Houthis entered Sanaa on 21 September, President Abdrabbuh Mansour Hadi agreed to form a "technocratic" government and appoint advisers nominated by the rebels and also members of a separatist movement in the south.
Southern separatists have long complained of being marginalised by the central government.