Last known US Ebola case 'virus free'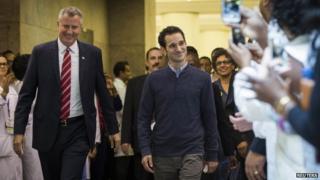 The last known person in the US with Ebola has recovered and has been released from hospital.
Craig Spencer, an American doctor who became the first person to be diagnosed in New York, "has been declared free of the virus", officials said.
He worked for Medecins Sans Frontieres (MSF) in Guinea and tested positive for Ebola on 23 October after he returned.
Dr Spencer is one of several Americans to have recovered after being treated at a specialist unit in the US.
A Liberian man died in Dallas after contracting the virus before coming to the country.
But the fatality rate in West Africa is much higher, where nearly 5,000 people have died.
As he left Bellevue Hospital in New York city on Tuesday, Dr Spencer said his early detection and recovery spoke to the "effectiveness of protocols that are in place for health staff returning from West Africa".
Dr Spencer said patients whom he had treated in Guinea had called him on his mobile to wish him well when they found out he had contracted Ebola.
He said his case represented a fraction of the more than 13,000 infections worldwide, and said his Guinean colleagues are the "true heroes we are not talking about".
In other developments:
former UK prime minister Tony Blair is meeting Ebola patients in Sierra Leone
A hunger strike has been launched in Guinea in protest against the military's presence in a village where an Ebola awareness team was killed in September
New tactics including rapid-response teams are needed to defeat the Ebola virus in Liberia, according to the charity Medecins Sans Frontieres (MSF)
Former Microsoft boss Bill Gates told the BBC that progress is being made in fighting the virus
Dr Spencer was given an experimental drug, and blood plasma donated by another American who recovered from the disease, Nancy Writebol, according to the New York Times.
"After a rigorous course of treatment and testing, Dr Craig Spencer - the patient admitted and diagnosed with Ebola Disease Virus at HHC Bellevue Hospital Center - has been declared free of the virus," the city's health department said in a statement.
Mayor Bill de Blasio called Spencer "a real hero".
His movements around the city before he tested positive sparked two states, New York and New Jersey, to impose controversial quarantine measures for aid workers returning to the US from West Africa.
One nurse, Kaci Hickox, defied instructions to stay indoors because she had no symptoms and repeatedly tested negative.
Dr Spencer's recovery, there are no Ebola patients currently under treatment in the US, but health officials continue to monitor people within the 21-day incubation period.