Biden joins Veterans Day honours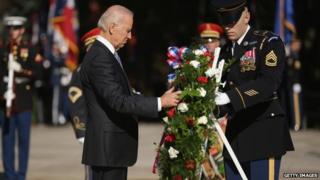 US Vice-President Joe Biden has called US military veterans the "heart and soul" and "very spine of this nation".
Mr Biden made the remarks after laying a wreath at the Tomb of the Unknown Solider at Arlington National Cemetery in honour of Veterans Day.
Defence Secretary Chuck Hagel was to deliver remarks at the Vietnam War memorial in Washington DC.
The US first began celebrating Veterans Day to honour all US veterans in place of Armistice Day in 1954.
More than two million Americans have served overseas in the Afghanistan and Iraq wars since 2001, and a record number of veterans from those wars were elected to the US Congress last week.
Mr Biden said that the United States has never before "asked so much over such a sustained period of an all-volunteer force".
In front of a crowd of veterans and their families, Mr Biden called them "the most trusted among us and the most tested of all Americans".
"You are not only the heart and soul, but you are the very spine of this nation."
In the past year, the secretary of Veterans Affairs stepped down amid a scandal over delayed care and falsified records at the agency's hospitals, which provide care to US military veterans.
In other events around the US:
Ohio used the occasion to remind veterans of the Iraq war from their state they had limited time to collect a bonus authorised by the state in 2009
A group representing gay and lesbian veterans is marching for the first time in Boston's Veterans Day parade
A star-studded concert, including Bruce Springsteen, Rihanna and Carrie Underwood, in honour of veterans is planned for the National Mall in Washington