NYC 'cannibal cop' case man Gilberto Valle sentenced on lesser charge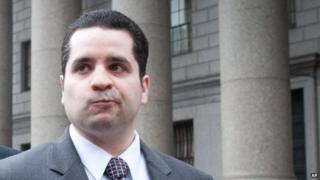 A US ex-policeman who was convicted and then cleared of plotting cannibal acts has been convicted of a lesser charge, but will serve no more time in prison.
Gilberto Valle received a one-year sentence for using a law enforcement database to get information about women - a misdemeanour charge.
He had already spent 20 months in jail when his 2013 conviction for plotting to kill and eat women was overturned.
Mr Valle, dubbed the "cannibal cop" by US media, had been facing life in jail.
He was arrested in 2012 and convicted over the discovery of online messages where he discussed killing his wife at the time, as well as kidnapping, killing and eating other women. After his trial, he was sacked by the New York Police Department.
However, his lawyers argued that he had only engaged in online role-playing fantasies on fetish websites.
The case went to appeal and in July, a federal judge in New York overturned the conviction on the grounds of insufficient evidence.
Judge Paul Gardephe said the government failed to prove beyond a reasonable doubt that Mr Valle "entered into a genuine agreement to kidnap a woman, or that he specifically intended to commit a kidnapping".
However, the judge acknowledged that Mr Valle's "depraved, misogynistic sexual fantasies about his wife, former college classmates and acquaintances undoubtedly reflected a mind diseased".
Prosecutors are appealing against Judge Gardephe's decision.
Apology
At the sentencing hearing on Wednesday, Mr Valle apologised to the women for putting them through the ordeal of testifying.
"I just hope they know they were never in danger,'' he said, according to the Associated Press news agency. "I would never do the things I talked about on the internet - never."
He was sentenced to one year, the maximum term for a misdemeanour, for secretly using an official database to find out more about women he knew.
He was also sentenced to a year's probation, and told to continue receiving mental health treatment.
Outside court, Mr Valle told reporters he wanted to move on. "My legacy is not going to be the story of the 'cannibal cop'," he said.