The Godfather: 'Corleone family home' for sale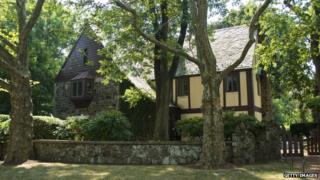 The mansion which served as the fictional headquarters of the Corleone family in the 1972 film The Godfather has been listed for sale.
The five-bedroom, seven bathroom mansion in Staten Island, New York, is being advertised for $2.9m (£1.84m).
The house was gutted and renovated in 2012 after having been a family home for six decades.
The film, directed by Francis Ford Coppola and starring Marlon Brando and Al Pacino, won three Oscars.
The Godfather was also, for a time, the highest grossing film ever made.
The exterior is most famous for being the location of a Corleone family wedding at the start of the film.
The film's production crew transformed five houses on the same street into the Corleone family residential complex,
'To die for'
Real estate agent Joseph Profaci said that the film had had an impact on how the house had been renovated.
"The current owners have done an amazing job renovating the home, including a first-floor office they remodelled to try to make look like the office in the Godfather movie," he said.
Mr Profaci said the kitchen was "to die for".
"It has anything you would want for entertaining - big open space, a huge island, and a very large eating area that opens up to the yard and pool" he added.
The house is listed as having more than 15 rooms in total, including a gym, a game room and a four car garage.