US nuclear arms: Hagel announces major reform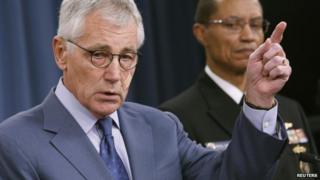 Defence Secretary Chuck Hagel has announced about $9bn (£5.7bn) in new investment and a standards overhaul in the US nuclear arms programme after reviews uncovered serious flaws.
Mr Hagel said there had been a "consistent lack of investment and support" over "far too many years".
But he added the nation's nuclear arsenal remained safe.
Reviews of the programme were ordered after multiple scandals involving staff misconduct.
After the announcement, Mr Hagel travelled to Minot Air Force Base in North Dakota to discuss the plans with employees.
One of the reviews found particular shortfalls at that base, home to intercontinental ballistic missiles (ICBMs) and long-range bombers.
Multi-state wrench
The reports found that since the end of the Cold War, the US' nuclear weapons and the bases they are housed in have begun to decay.
In one case, investigators found that crews maintaining 450 ICBMs had just one wrench with which to attach nuclear warheads.
Staff at bases in North Dakota, Wyoming and Montana had to send the toolkit to each other via FedEx, the review found. Mr Hagel said that problem had now been rectified.
Inspectors reportedly ignored the fact that ageing blast doors at nuclear silos would no longer seal shut.
On staffing, the reviews found that a culture of micromanagement and extreme exam-testing distracted from major problems with equipment and nuclear readiness.
On Friday, Mr Hagel said the reviews "found evidence of systematic problems that if not addressed, could undermine the safety" of the nuclear programme in the future.
He said the "root cause" of the problems was a lack of focus and resources, "resulting in a pervasive sense that a career in the nuclear enterprise offers too few opportunities for growth and advancement".
The defence department has already shifted some funds to the nuclear force to "address the most urgent shortfalls in equipment, facilities, and personnel" but would increase investment in the programme by 10% each year over five years.
Other improvements planned:
The entire inspections programme at the air bases and in nuclear submarines would be reworked
Incentive pay for certain for Air Force ICBM positions
Infrastructure improvements
Senior commanders sacked
One review was conducted by Pentagon officials, the other by two retired military officers.
The investigations followed a string of scandals including revelations that dozens of US Air Force officers in charge of launching nuclear missiles cheated on proficiency tests.
Previously, the general in charge of the US Air Force's long-range nuclear missiles was sacked for conduct "unbecoming of a gentleman" in Russia. That came days after another senior officer was dismissed over an investigation into illegal gambling.
A number of internal and external reports had also revealed security problems and low morale among nuclear staff.