Jerusalem synagogue: Three victims were US rabbis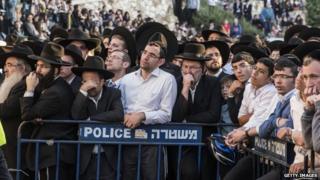 Three of four men killed in an attack on a West Jerusalem synagogue have been identified as Israeli-US nationals.
The attack, carried out in an Orthodox Jewish community by two Palestinians armed with a pistol and meat cleavers, is the city's deadliest in six years.
Thousands attended a funeral for the deceased on Tuesday, held outside the attack site Bnei Torah Kehilat Yaakov.
One victim has been identified as UK citizen Avraham Goldberg, 68, while three others held US passports.
Rabbi Moshe Twersky:
The 59-year-old is the grandson of the head of Boston religious seminary Yeshivas Toras Moshe, and son of the founder of Harvard University's Center for Jewish Studies.
A father of five and grandfather of 10, Twersky lived in Boston and New York before moving to Israel in 1990.
He attended New England's first Hebrew school, Maimonides School, and himself founded the English-language Toras Moshe yeshiva in Jerusalem.
"We are heartbroken at the news of this unspeakable act of sacrilegious cruelty," Eric Nelson, the current director of the Harvard center, told the Boston Globe.
"Our thoughts and prayers are with the Twersky family at this terribly sad and difficult time."
Arieh Kupinsky:
The 43-year-old father of five lost a daughter, age 13, two years ago, according to the Israel Ministry of Foreign Affairs.
He worked in computing and regularly attended the synagogue where he was killed, NBC News reports.
Kupinsky is said to have grown up in Detroit, Michigan, and moved to Israel as a boy.
It is "terribly sad and really horrifying that innocent worshippers were so barbarically attacked and actually slaughtered in their synagogue", Beverly Phillips, of the Jewish Community Relations Council of Metro Detroit, told the Detroit Free Press.
Rabbi Michael Cohen, rabbi of the Young Israel in Michigan, told the newspaper "it brings the violence in the Middle East very close to home".
He added: "We all take every act of violence against anyone that we related to very personally," he added. "That this was committed in a synagogue and that it was committed against one of our own brings the issues of the Middle East, of the conflict... to a very personal level."
Kalman Levine:
The 55-year-old reportedly lived in the Har Nof neighbourhood of Jerusalem after moving to Israel nearly 30 years ago.
Raised in Kansas City, Missouri, Levine attended the Hyman Brand Hebrew Academy in Kansas City, according to NBC News.
His parents were "very active in so many aspects of Jewish life here", Alan Edelman, associate executive director of the Jewish Federation of Greater Kansas City, told the network.
"One of the reasons why Kalman moved to Israel and became a rabbi was because of the model that his parents were for him," he added. "He was a very special soul, and lived such a humble, modest life."
Levine's brother-in-law, Jonathan Bein, told the Associated Press news agency Levine studied the Talmud and Torah at the University of Southern California before leaving for Israel while in his 20s.
"He was very committed to being in the land of Israel," he said. "There are people, once they get there, their ethic is to never leave the land of Israel. He was one of those people."
Levine is survived by nine children and five grandchildren.