Mike Nichols: Obituary of a Hollywood great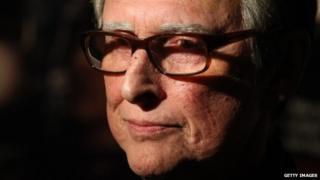 Mike Nichols was one of the most highly rated US film and stage directors, with a list of awards to prove it.
Over the course of his career he won a Grammy, an Oscar, four Emmys and eight Tonys, working with Hollywood's most famous actors.
His most famous film was The Graduate (1967), which launched the career of Dustin Hoffman and was one the highest grossing films of the 1960s.
The most memorable scene from the movie, showing Hoffman's Benjamin Braddock confronting the older Mrs Robinson (Anne Bancroft) as she peels a stocking from her leg, went on to become one of the most enduring frames in cinema.
It was nominated for seven Academy Awards, including best picture, best actor, best actress, best supporting actress and the adapted screenplay category. Nichols won the Oscar for best director.
His other landmark movies included Who's Afraid of Virginia Woolf? which pitted married stars Elizabeth Taylor and Richard Burton against one another as a warring couple, earning Nichols his first Academy Award nomination.
He went on to make films as diverse as Catch 22, Silkwood, Working Girl, Postcards from the Edge and Closer. Popular, often critically acclaimed films - he brought his comic flair and wry sensibility to each era, though he never won another Oscar.
Arabian horses
Mr Nichol's private life was no less colourful than his career as director. He had countless girlfriends, numerous wives and a valuable collection of paintings and cars. He was also a renowned breeder of Polish Arabian horses.
The son of a Russian doctor who escaped to Germany after the Russian revolution, Nichols was born Michael Igor Peschkowsky in 1931.
Nichols lost all his hair at the age of four after reacting badly to a whooping cough vaccine, leaving him to rely on wigs and false eyebrows throughout his entire life.
His family moved to the US to escape the Nazis in 1939, and the seven-year-old arrived in New York armed with only two phrases: "I do not speak English" and "Please do not kiss me."
"Nothing about coming here felt traumatic," he told the Hollywood Reporter in 2012. "It just felt like an adventure. But Buck Henry [who wrote the screenplay for The Graduate] was in my school, and the way he described it, I was an outsider in every possible way.
The death of his father, when he was aged only 12, left the family poverty-stricken and prompted the future director to find solace in books, films and theatre.
And it was a chance ticket to see Elia Kazan's production of A Streetcar Named Desire that proved seminal.
"To this day, I remember it was the most poetic thing I ever saw. It was magnificent and very upsetting and exciting. It was so true, real and shocking."
He met Elaine May while studying at the University of Chicago - and though both professed to loathe the other on sight, they eventually struck up a lifelong friendship.
By 1958, the pair were making a name for themselves as a comedy duo, performing on Broadway and appearing on television.
But their relationship was notoriously fiery. A year on, the pair broke up over artistic differences. May quit the partnership and Nichols was left bereft, describing himself as "the leftover half of something".
In 1960, he was hired to direct Barefoot in the Park, by newcomer Neil Simon. The romantic comedy, starring Robert Redford as one half of a newlywed couple, was a critical triumph, winning him his first Tony.
Nichols rapidly began to make a name for himself on Broadway - at one stage having four plays running concurrently.
By the early 1970s, he was at the height of his fame, directing a big-budget adaptation of Catch-22 and the film Carnal Knowledge, starring Jack Nicholson. Throughout this time he continued to direct a string of Broadway hits.
Nichols said of stage work: "I think a director can make a play happen before your eyes so that you are part of it and it is part of you.
"If you can get it right, there's no mystery. It's not about mystery. It's not even mysterious. It's about our lives.''
A lull in his film career was brought to an end with the 1983 film Silkwood - starring Meryl Streep - and in 1988 he directed Working Girl, starring Melanie Griffith.
It was during this period that Nichols suffered a breakdown after becoming addicted to prescription sedatives, which deluded him to the point that he believed that he had lost all his money.
In the 1990s came Postcards from the Edge, Primary Colors and The Birdcage.
Nichols continued to work on highly acclaimed Hollywood productions, moving into television with the seminal mini-series Angels in America (2003), which looked into the lives of people coping with HIV in compassionless 1980s America.
The New York Times in 2012 said that his "boyish humour and deadpan wit" characterised his skills as a director.
"If his movies have a common denominator," the newspaper said, "it's probably their intelligence and, though Mr Nichols doesn't think of himself as a writer, their writerly attention to detail.
"They're almost invariably based on good scripts, from which he extracts extra layers of nuance."
His films were usually "smart movies about smart people" interspersed with an element of his famed sense of humour.
Nichols, for his part, said that he was made to bring stories to the stage and screen.
"There's nothing better than discovering, to your own astonishment, what you're meant to do. It's like falling in love," he once professed.
After three failed marriages, he met Diane Sawyer at an airport and they were compelled to declare their mutual admiration for one another.
Nichols said his "ultimate happiness" began with her, calling her "the perfect wife".