Benghazi consulate attack: Report clears US response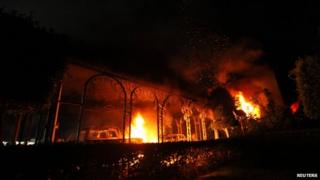 A US investigation has found no wrongdoing by the Obama administration in responding to the deadly 2012 attack on the US consulate in Benghazi, Libya.
The inquiry by the Republican-run House Intelligence Committee also said there was no intelligence failure and no delay in sending a CIA rescue team.
The Obama administration had been accused of mishandling its response.
Four Americans, including Ambassador Christopher Stevens, died in the raid carried out by Islamist militants.
'No stand-down order'
In a report released on Friday, the committee dismissed a claim that the CIA had not provided adequate security for its own agents near the Benghazi consulate and that the Obama administration had failed to send support.
It said it reached its conclusion based on "thousands of hours of detailed investigation" and interviews with senior American officials and the agents who had been on the ground during the attack on 11 September 2012.
"The CIA ensured sufficient security for CIA activities in Benghazi and, without a requirement to do so, ably and bravely assisted the state department on the night of the attacks," the report said.
"Appropriate US personnel made reasonable tactical decisions that night, and the committee found no evidence that there was a stand-down order or a denial of available air support.
"The CIA received all military support that was available," the document added.
However, it concluded that the mission had inadequate security and therefore had required CIA assistance.