Tamir Rice: US police kill boy, 12, carrying replica gun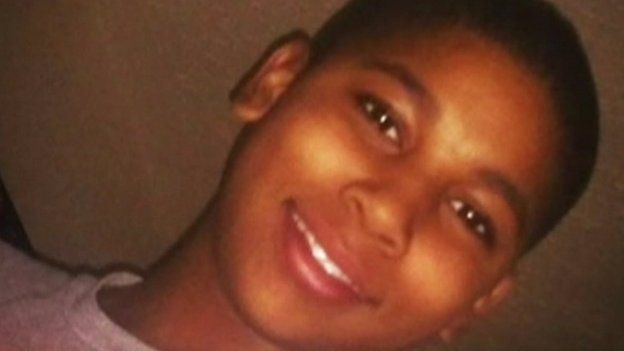 A 12-year-old boy has died after being shot by police in the US city of Cleveland, after carrying what turned out to be a replica gun in a playground.
Police say an officer fired two shots at Tamir Rice after he failed to obey an order to raise his hands.
He did not make any verbal threats nor point the gun towards the officers.
A lawyer representing his family said it would be carrying out its own investigation into what happened.
The incident comes as a grand jury decision in Ferguson, Missouri, will decide imminently whether to indict a police officer in the fatal shooting death of Michael Brown, an unarmed black teenager.
His shooting in August in Ferguson sparked days of violent protests in the town, prompting a heavy police crackdown.
The boy was shot on Saturday afternoon and died in hospital early on Sunday morning.
Cleveland deputy police chief Ed Tomba said the boy was shot twice after pulling the gun from the waistband of his trousers.
Police said the weapon was an "airsoft" replica gun that resembled a semi-automatic pistol, adding that an orange safety indicator had been removed.
An audio recording of the 911 emergency call made by the man who reported the incident reveals that on two occasions he said that the pistol was "probably a fake" and on another occasion that the person holding it "was probably a juvenile".
The caller also said that he was not sure whether the weapon was "real or not".
But Jeff Follmer, president of the Cleveland police association, said the two officers at the scene were not told about the caller's comments.
One of the officers involved was in his first year on the local force, the other had more than 10 years of experience.
The BBC's David Willis in Washington says an official investigation is under way and both officers have been placed on administrative leave.
Tamir Rice's father, Gregory Henderson, said that police should have used a stun gun - or Taser - to subdue his son rather than shoot him.
"Why not Tase him?" he was quoted as asking by Cleveland.com. "[They] shot him twice, not once, and at the end of the day you all don't shoot for the legs, you shoot for the upper body," he said.
Mr Henderson said that Tamir was a "respectful young man" who "minded his elders", and that it was a mystery to him why his son, reported to be tall for his age, allegedly did not follow police orders.
There have been calls for tighter controls on fake guns, with one local lawmaker - Alicia Reece - saying she intends to introduce legislation that would require fake guns sold in Ohio to be brightly coloured.
A lawyer for Rice's family, Timothy Kucharski, told the BBC that he would be conducting an investigation, in "parallel" to the police, in order to establish exactly what happened.
"If in fact we determine that Tamir's rights are violated, we will proceed with civil action against the police," he said.
Cleveland's police force has come under increased scrutiny in recent years, most notably over a high-profile car chase in 2012 that ended with two deaths and officers firing 137 shots.