Ferguson, Missouri: Anxiety and fear ahead of ruling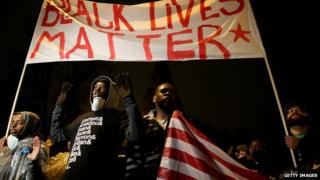 In Ferguson the community is waiting to hear whether the grand jury will indict Darren Wilson, the white police officer who shot dead Michael Brown, an unarmed black teenager, in August.
For Pastor Traci Blackmon, leading her congregation in prayer in the town's Christ the King United Church of Christ, the events of the past few months have been nothing short of a revolution.
"If you look at the history of the black liberation struggle in the United States, Ferguson is now the longest lasting consistent demonstration for liberation by black people," she said on Sunday.
"The Montgomery bus boycott was 300 days," she said, referring to the 1955 anti-segregation campaign in Alabama that kick-started the civil rights movement.
"We're now at day 106."
Pastor Blackmon had written her sermon for the day anticipating the grand jury would have already decided not to indict Officer Wilson, who shot 18-year old Michael Brown after stopping him in the street on 9 August.
But, with the jury still deliberating over the evidence, she delivered it anyway.
And underneath her plea for calm was a steely note of protest against what she described as the bleak reality of black life in Ferguson, a reality not likely to change whatever the decision.
"The same schools will remain, the same economic depravity will remain, the same rates of incarceration will remain and the same racial profiling will remain," she thundered to a cheering congregation.
With heavy rain lingering outside, that congregation was smaller than usual.
One member who had stayed at home was Pastor Blackmon's only white parishioner, a former maths teacher who said she was too old to join the protests but had crocheted 95 hats and scarves in solidarity, which Pastor Blackmon had blessed.
In her place were a dozen new faces, sympathisers, both black and white, who had travelled to Ferguson from Atlanta, Denver and Texas to express their support.
On everyone's mind was the prospect of more violence if Darren Wilson was not indicted.
After the shooting in August, demonstrators clashed with heavily armed police on the streets for days.
The protests were often violent. Shops were looted and a petrol stations burnt down. Outside, activists swelled the ranks of locals, with some provoking fights.
"There's lots of anxiety not knowing what's coming next," said worshipper Marissa Hardwick, who has already worked out a safe route to drive herself and her daughter away should trouble erupt again.
But Pastor Blackmon said feelings of fear and anxiety were a small price to pay for the insight they had brought.
"It's causing us to examine not just the motives of the white community, not just the motives of the black community, but the motives of us as a community together," she said.
Driving from the church into Ferguson, this community seems an unlikely place to stage a revolution.
The richer, whiter area of town is neat and well kept. White clapboard houses are separated by tidy gardens.
Cross over West Florissant into the black area and the order remains, even if the money is less apparent. This is not an inner city neighbourhood of squalor, graffiti and no-go areas.
The blocks of apartments - outside which Michael Brown was shot and where a memorial pile of teddy bears now soaks in the rain - are low-cost but not badly looked after.
Other than the boarded-up shops along West Florissant, this is not an obvious flashpoint.
But the stage is set for another confrontation, with banks of camera crews from the US and abroad already lined up to film the action.
Leaks from the grand jury testimony, including the official autopsy report, indicate there may be no indictment.
Missouri State Governor Jay Nixon has already declared a state of emergency and activated the National Guard.
"There is the possibility of expanded unrest," he said in a statement last week.
On the other side, an umbrella organisation of protests groups has announced three areas where it will stage demonstrations when the decision is made.
"Stay safe. Be prepared. Together we can end police brutality and create change," it said in a statement.
Throughout this, Darren Wilson himself has remained conspicuous by his absence.
The officer, who is also being investigated by the FBI and department of justice, has yet to give his side of events and has stayed away from the press.
But with the grand jury's decision looming, reports on Sunday described him as in talks with news anchors from the major TV networks over who to tell his story to.
Officer Wilson, who joined the police force six years ago, also has his supporters, though they are less obvious on the streets of Ferguson.
More than $500,000 (£319,000) is reported to have been raised in his name, fans of the local baseball team, the St Louis Cardinals, have sold T-shirts with "I am Darren Wilson" printed on the back and members of the white-supremacist Ku Klux Klan have offered to provide "lethal force".
As the media set up their cameras and the police erect barricades, some Ferguson residents said privately the situation had gone too far.
But others, like Eileen Pacino, who is white and who used to walk her dogs in both white and black areas of town, said what is happening has been a long time coming.
"This is the equivalent of a civil rights movement. Historically we've been separated, historically this area has had difficulties." she said.
As the grand jury reconvenes, Ferguson will face those difficulties once again.