Wizard of Oz lion costume sells for $3m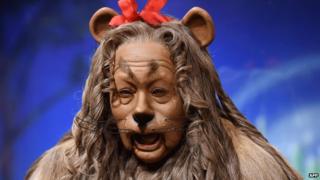 The Cowardly Lion costume from classic 1939 film The Wizard of Oz has sold for more than $3m (£1.9m) at an auction in New York.
The famous outfit went for $3.07m (£1.95m) at a Bonham's auction of Hollywood memorabilia on Monday.
The costume had been authenticated as the one Bert Lahr wore in more than a dozen scenes in the film. Its face is a sculpted likeness of the late actor.
The outfit was made out of real lion hide.
Other items that went under the hammer included a piano from 1942 film Casablanca, which sold for $2.9m (£1.85m).
The instrument was sold along with more than 30 items from the World War II drama.
Pianist Sam, played by Dooley Wilson, sang As Time Goes By in the movie for actors Humphrey Bogart and Ingrid Bergman.
The piano, one of two used in the film, had been owned by Los Angeles dentist Gary Milan.
Dr Milan said the piano came with chewing gum under the keyboard, but that the owner of the fingerprint embedded in it was unknown.
The piano featured prominently in the Oscar-winning film, which was largely set in the Moroccan port city of Casablanca.
In one famous scene, Bogart uses the piano as a hiding place for illegal transit papers.
The 'letters of transit' were also sold at auction, fetching more than $100,000 (£63,700).