Jian Ghomeshi: Radio host charged with sex abuse, bailed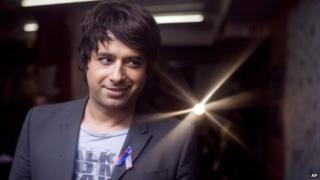 Former Canadian Broadcasting Corporation (CBC) host Jian Ghomeshi has appeared in court to face four sex assault charges and one of choking.
The former radio host was released on bail on Wednesday - his lawyer said her client will plead not guilty.
At least three women complained to Toronto Police that Mr Ghomeshi had been physically violent towards them.
Mr Ghomeshi, 47, was the host of the CBC's radio show Q. He was sacked by the CBC last month.
His bail was set at C$100,000 ($90,000; £55,000) on condition that he live with his mother, surrender his passport and avoid contact with his alleged victims.
Mr Ghomeshi's lawyer Marie Henein added that she had sought a routine publication ban on her client's case.
She told reporters: "We will address these allegations fully and directly in a courtroom. It is not my practice to litigate my cases in the media."
Mr Ghomeshi is next due in court on 8 January.
The police department's sex crimes unit began investigating Mr Ghomeshi on 31 October after two women filed complaints.
Nine women have spoken to Canadian media accusing Mr Ghomeshi of physical and sexual assault.
'Graphic evidence'
Throughout the investigation, he has denied the allegations made against him, claiming his actions were consensual.
The CBC began an inquiry into Mr Ghomeshi's sexual activities after Canadian newspaper the Toronto Star began investigating allegations by an ex-girlfriend that he had engaged in non-consensual, violent sex with her.
After being shown "graphic evidence" that Mr Ghomeshi had physically injured a woman, the broadcaster fired him.
On Tuesday, Mr Ghomeshi dropped a Canadian C$55m legal case against the CBC for wrongful termination.
This was finalised on Wednesday afternoon and it was agreed that Mr Ghomeshi would pay C$18,000 in legal costs.
However, he is still fighting the termination through the union, having filed a complaint with the Canadian Media Guild.
Mr Ghomeshi surrendered himself to officials on Wednesday morning, Toronto Police said in a statement.