Eric Garner death: US grand jury system 'broken'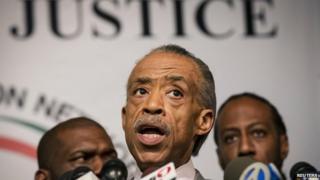 Civil rights leader Reverend Al Sharpton has labelled the US grand jury system "broken" and called on the federal government to address it.
Earlier the US justice department said it will investigate the death of a black man placed in an apparent chokehold by a New York police officer.
Activists have called for a march in Washington next week as a result.
A federal probe into police in Cleveland found a pattern of "unreasonable force".
The justice department found a systemic pattern of reckless and inappropriate use of force by officers in Cleveland, a report released on Thursday said.
"We saw too many incidents in which officers accidentally shot someone either because they fired their guns accidentally or because they shot the wrong person," the report said.
Before that report, civil rights leaders spoke about the case of Eric Garner, the man who died after being restrained in New York.
"We want the justice department and the federal government to deal with the fact that the grand jury systems on a state level are broken," said Rev Sharpton.
His statements followed the launch "an independent, thorough, fair and expeditious" investigation by the justice department into potential civil rights violations in the "chokehold" case.
Attorney General Eric Holder said he was continuing a review of how to heal a "breakdown in trust" between police and communities.
The president also spoke on Thursday about the case. Mr Obama said "too many Americans feel deep unfairness when it comes to the gap between our professed ideals and how laws are applied on a day-to-day basis".
Mr Garner, 43, was stopped on a street in New York on 17 July on suspicion of selling loose, untaxed cigarettes.
After a confrontation with police he was wrestled to the ground and restrained by force. He became unresponsive and later died.
The US saw a wave of race-related unrest only last week over the decision not to indict another white police officer who had shot dead a young black man in Ferguson, Missouri.
Staten Island District Attorney Daniel Donovan said the grand jury found "no reasonable cause" to bring charges.
The grand jury could have considered a range of charges, from murder to a lesser offense such as reckless endangerment.
The city's medical examiner's office found in the summer that Mr Garner's death was caused by "the compression of his chest and prone positioning during physical restraint by police".
New York Mayor Bill de Blasio has said policing in the city "has to change" and announced a retraining plan.
Police Commissioner William J Bratton said about 22,000 officers will complete a three-day course.
When the grand jury decided not to bring charges against Mr Pantaleo, the announcement perplexed legal experts.
Ekow Yankah, a professor at Cardozo School of Law, told the Associated Press it was "hard to understand" how the jury failed to see probably cause of a crime.
James Cohen of Fordham University Law School added: "Logic doesn't play a role in this process."
On the streets protesters marched through New York and other cities in the US late on Wednesday, occasionally disrupting traffic, chanting "I can't breathe!" and "Hands up - don't choke!"
Are you in the region? Your can email your experiences to haveyoursay@bbc.co.uk
Send your pictures and videos to yourpics@bbc.co.uk or text them to 61124 (UK) or +44 7624 800 100 (International). If you have a large file you can upload here.
Read our terms and conditions.