Canadian teen 'sought to engage in terrorist activity'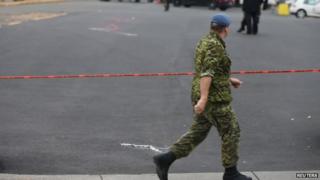 Canadian police have charged a teenager with seeking to travel abroad to engage in terrorist activity.
The unnamed boy, 15, is accused of having stolen money at knife-point for the benefit of a terrorist group with plans to leave Canada.
He is only the second person in Canada to ever face such charges, the Royal Canadian Mounted Police (RCMP) say.
The teen's father is said to have alerted police after fearing his son had become radicalised.
"He was allegedly planning to leave Canada to engage in terrorist activity abroad," according to the RCMP.
The teen is accused of having stolen nearly $2k ($2.2k CAN) from a grocer "for the benefit of, or at the direction of, a terrorist group".
Last month, Canadian media reported the teen had befriended a suspect in the hit-and-run killing of a soldier in Saint-Jean-sur-Richelieu. That incident was considered the first jihadist attack on Canadian soil.
Police were alerted by the boy's father and made an arrest on 17 October.
The first person in Canada convicted of seeking to join an oversees terrorist group was 28-year-old Mohamed Hersi.
Prosecutors said he planned to join Somali Islamist militia Shebab. He was sentenced to 10 years in prison in July.