Reported US military sex assaults rise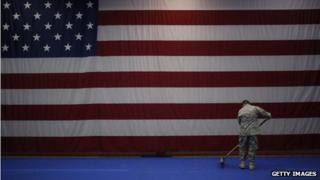 Reported sexual assaults in the US military rose by 8% this year to 5,983, with nearly two-thirds of those who reported saying they faced retaliation.
The total number of troops saying they faced unwanted sexual contact fell, from 26,000 in 2012 to 19,000 in 2014.
Defence Secretary Chuck Hagel said a three-year crackdown on sexual assault was showing "real progress" but there was still "a long way to go".
The figures come from an anonymous survey conducted by the Pentagon.
Of the 19,000 overall people who said they had experienced unwanted sexual contact, about 10,500 were men and 8,500 women.
Pentagon officials said the rise in the number of cases that were actually reported was encouraging, showing that more people were willing to come forward.
But they expressed concern that 62% of female victims said they faced repercussions for reporting assaults.
Mr Hagel said the issue of retaliation should be tackled "head on".
"When someone reports a sexual assault, they need to be embraced and helped, not ostracised or punished with retribution.''
Democratic Senator Kirsten Gillibrand, a prominent campaigner for victims of sexual assault, said the fact that the rate of retaliation had not fallen should be "a screaming red flag to everyone".
Ms Gillibrand has been pushing for reform of the military justice system, and for transferring the authority to prosecute sex assault cases to an independent military prosecutor.