Obama nominates Ashton Carter as new US defence chief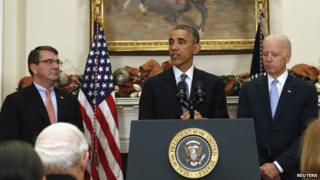 US President Barack Obama has nominated former Pentagon official Ashton Carter as new defence secretary.
Mr Carter was previously the Pentagon's chief arms buyer and an assistant secretary of defence under former President Bill Clinton.
His appointment to the post, replacing outgoing Chuck Hagel who resigned last month, now requires approval from the Republican-led US Senate.
Mr Carter received a doctorate in theoretical physics from Oxford.
---
Ashton Carter
married father of two adult children
earned bachelor's degrees in medieval history and physics from Yale University before receiving his doctorate in theoretical physics from Oxford University
served as assistant secretary of defense for international security policy under President Clinton
collaborated on 11 books and authored many articles, scientific publications and government studies
professed fan of Motown music
From physicist to Pentagon chief
---
"We face no shortage of challenges to our national security," Mr Obama said on Friday, praising Mr Carter's more than 30 years of service. "[He] is going to be critical to all these efforts."
Mr Carter called the nomination an "honour and a privilege", and pledged to Mr Obama his "most candid" strategic and military advice.
Mr Hagel quit after two years in the job, reportedly under pressure to go.
Following word of his resignation in November, Mr Hagel called manning the post his life's "greatest privilege".
Absent from the nomination announcement at the White House, Mr Hagel released a statement calling Mr Carter a "patriot and a leader", adding he "strongly" supports the nomination.
The Vietnam war veteran and former Republican senator, 68, will stay on as secretary until Mr Carter is confirmed.
Mr Hagel was reportedly sharply critical of the US strategy against Islamic State and in relation to the Syria regime.