Canada closes Cairo embassy over security fears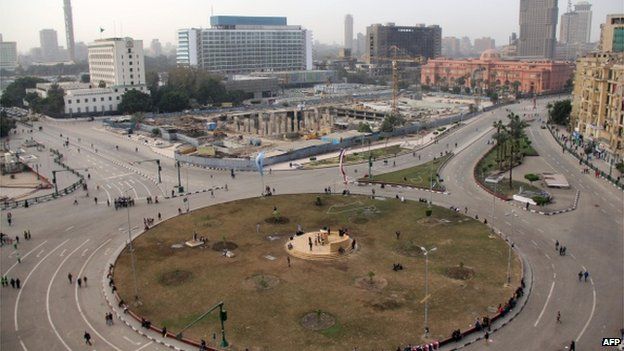 Canada has shut its embassy in Cairo due to "security concerns", a day after the UK closed its own diplomatic mission in the Egyptian capital.
It is not clear if Canada's measure is linked to a video in which a man believed to be a Canadian militant urges attacks against his home country.
The video - released on Sunday - refers to the killing of Canadian soldiers and an attack on parliament in Ottawa.
Canada is part of a coalition fighting Islamic State (IS) militants.
Public Safety Minister Steven Blaney said in a statement on Sunday that Canadians must remain vigilant.
"That is why we are taking part in the coalition that is currently conducting air strikes against ISIL [ISIS], and supporting the security forces in Iraq in their fight against this terrorist scourge," he said. Countries in the coalition often refer to IS as Isil or Isis.
The British embassy in Cairo was first shut down on Sunday and remains closed amid ongoing fears over security, the Foreign Office says.
In Egypt, militants mainly based in the Sinai peninsula have stepped up attacks on soldiers and police since the military overthrew President Mohammed Morsi last year.
Jihadist group Ansar Beit al-Maqdis has pledged allegiance to IS.
The IS video released on Sunday features a Canadian fighter identified as Abu Anwar al-Canadi, according to Site Intelligence Group, which monitors extremist activity online.
Canadian media have identified him as John Maguire, an Islamist convert from near Ottawa. They said he was reportedly under investigation after travelling to Syria to join IS in January 2013.
In the video he urged Muslims to follow the example of the recent attacks in Canada.