Poland's secret CIA prisons: Kwasniewski admits he knew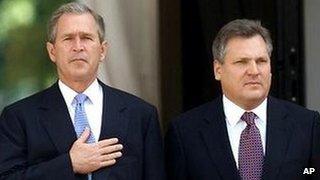 Former Polish President Aleksander Kwasniewski has acknowledged his country let the US Central Intelligence Agency (CIA) run a secret prison on its territory following 9/11.
But Mr Kwasniewski insisted he had not known about the harsh treatment used by the CIA interrogators.
Mr Kwasniewski had previously denied that Poland hosted a secret CIA prison.
A US Senate report into the CIA's activities did not name the countries that hosted the prisons.
But the European Court of Human Rights ruled in July that Poland had allowed the CIA to torture two al-Qaeda suspects at a secret detention centre in 2002 and 2003, when Mr Kwasniewski was president.
In an interview following the publication of the US Senate report, Mr Kwasniewski said Poland had agreed to strengthen intelligence co-operation with the US following the September 11 attacks on New York and the Pentagon.
He said the Americans had been very secretive about the way they conducted their activities, which aroused suspicions among Polish officials.
"Poland took steps to end the activity at this site and the activity was stopped at some point," Mr Kwasniewski told Radio TOK FM in Warsaw.
He said he had been unaware of the methods the CIA had used.
"These methods which are repulsive, which I do not accept, which are not justifiable, did not bring anything good. And that is the real catastrophe of the US, that is the real catastrophe of the CIA, that is the real catastrophe of George Bush."
Prosecutors opened an investigation into the claims in 2008, three years after Mr Kwasniewski left office. The investigation continues and has yet to publish any findings.
The CIA has defended its actions in the years after the 9/11 attacks on the US, saying they saved lives.
None of 20 cases of counterterrorism "successes" attributed to the techniques led to unique or otherwise unavailable intelligence
The CIA misled politicians and public
At least 26 of 119 known detainees in custody during the life of the programme were wrongfully held, and many held for months longer than they should have been
Methods included sleep deprivation for up to 180 hours, often standing or in painful positions
Saudi al-Qaeda suspect Abu Zubaydah was kept confined in a coffin-sized box for hours on end
Waterboarding and "rectal hydration" were physically harmful to prisoners, causing convulsions and vomiting
Related Internet Links
The BBC is not responsible for the content of external sites.